The Lincoln Trio
Program
Franz Joseph Haydn
Keyboard Trio No. 5 in G minor, Hob. XV: 1
Franz Schubert
Piano Trio in B-flat Major, Op. 99, D898
The Lincoln Trio
Described by STRAD Magazine as "Sensational" and "Bewitching" and "Models of vibrancy and control" by GRAMOPHONE Magazine. The celebrated GRAMMY-nominated Lincoln Trio—made up of violinist Desiree Ruhstat, cellist David Cunliffe, and pianist Marta Aznavoorian—is named for the state in which they live, the land of Lincoln. The trio, formed in 2003, has become well known for its polished presentations of well-known masterpieces of the repertoire as well as its ability to forge new paths with contemporary music.
Program Notes 
Franz Joseph Haydn (1732–1809)
Keyboard Trio in G minor, Hob. XV:1, No. 19 (1766)
Franz Joseph Haydn
(1732–1809)
Haydn was the most respected, beloved and honored composer of the Enlightenment, and certainly had an unexpected career for one of twelve children born to an Austrian wheelwright. Early on he showed unusual musical talent and was sent to the choir at St. Stephen's Cathedral in Vienna. His career progressed steadily if slowly when at age 30, he made possibly the greatest mistake of his life: he married the daughter of a hairdresser, when he really was in love with her sister (a story similar to Mozart's). She didn't like music, couldn't manage money, and was a poor housekeeper. In short, the marriage was a disaster; he quickly "turned elsewhere" while continuing to support her for the rest of her life. But then he entered the service of the Esterházy royal family as vice-Kapellmeister. The Prince was head of the greatest and richest family in Hungary and was a lover of art and music. He moved to the royal castle at Eisenstadt, an enormous palace which had 200 rooms for guests, and parks, theaters, opera houses and an orchestra for which Haydn wrote hundreds of symphonies, concertos and other works. Take a Tour of Eisenstadt (suggestion: turn down your sound until minute 4.0).
He had a sweet, even disposition, a good sense of humor, was practical and had integrity, while enjoying the perks of his royal service. He liked to dress well, loved silks and wigs, lace and good buckles, and good food and drink. During this time, he famously met and became friends with the twenty-five-year-old Mozart, and even gave a few composition lessons to Beethoven, who, however, was dissatisfied and quit. Haydn had a long and stellar career, writing brilliantly in many genres, and was celebrated in Vienna and London. Harold C. Schonberg notes, "but above all there is that direct, clear, good-natured, un-neurotic view toward life and art." Haydn himself wrote, "Since God has given me a cheerful heart, He will forgive me for serving him cheerfully." 
Haydn composed well over forty keyboard trios, and the best of them contain some of the most adventurous, playful music in his entire output. Our trio today is a very early one, and is unusual in that it is one of the very few that Haydn composed in a minor key. The first movement features a richly ornamented keyboard part as the dominant instrument, and confines the violin to a secondary role with the cello mostly doubling the keyboard part's left-hand, which is strongly reminiscent of a baroque trio sonata from earlier days. The next two very brief movements are first a charming dance with interlude, and then a gallop, with the keyboard and violin in duet. At the time that Haydn was writing his early keyboard works, the harpsichord and fortepiano were the keyboard instruments in use, although the pianoforte was in development. Each of these instruments has a different mechanism of action, and as a result each sounds and plays differently. Music historians think that Haydn in fact wrote these early works for the fortepiano, which has a lighter sound and touch, and that he only later wrote for the more resonant modern piano that we are accustomed to hearing. 
Fortepiano by Conrad Graf in the Reiss-Engelhorn-Museen, Mannheim
This performance of the Haydn trio features the Van Swieten Trio, who perform on a fortepiano. 
Franz Peter Schubert (1797–1828)
Piano Trio in B-flat Major, D. 898 (1828)
Franz Schubert, who died at the age of 31, lived his entire life under the shadow of Beethoven. He was born in Vienna to an impoverished schoolteacher and briefly became a teacher himself until he threw himself into music and lived as a struggling freelance composer at a time when the patronage system was breaking down. Still, Schubert had a support system of friends and musicians who adored him and were sure they had a genius in their midst. Short and tubby, a good-natured fellow, Schubert would compose from 9am til 2pm, and then head for the cafés where he would meet his friends where, unlike Beethoven, he seldom mixed with aristocracy, preferring the bourgeoisie and artistic Bohemians of Vienna. Like Haydn, interestingly, he also worked briefly for the Esterházy family. He had great difficulty getting his works published during his lifetime, but his Viennese friends would sponsor "Schubertiads," or musical evenings where nothing but his chamber music was performed, which were a grand success. He tragically died early of tertiary complications of syphilis; there is much 20th century debate about Schubert's sexuality, but really this has no bearing at all on our understanding or enjoyment of his music.
Julius Schmid's 1897 Schubertiade
Schubert composed the B-flat Major trio, the first of his two piano trios, within a year of his death. It was eventually published eight years later, and at that time Robert Schumann made the following conclusion about the work in his journal: "A glance at Schubert's trio and all miserable human commotion vanishes and the world shines in a new splendor." This is a large and expansive work. The first movement starts with a noble march in the piano, followed by a beautiful song introduced by the cello, then developed by the other two instruments. The second movement is another gorgeous soulful song first presented by the cello over piano accompaniment, then restated by the violin in duet with the cello. The three instruments each take their time exploring the seemingly endless possibilities that Schubert weaves. The Scherzo is bright and playful, and the Rondo is a delightful romp. He died tragically early of tertiary complications of syphilis.   
You may be interested in listening to this historic performance of the Schubert B-flat Major Trio in 1941 by Jascha Heifetz (violin), Emanuel Feuermann (cello), and Arthur Rubinstein (piano) All émigrés, they were part of an extraordinary community in Southern California of other inter-war émigré classical musicians who included Igor Stravinsky, Arnold Schoenberg, Erich Korngold, Otto Klemperer and many others.
Program notes by Louise K. Smith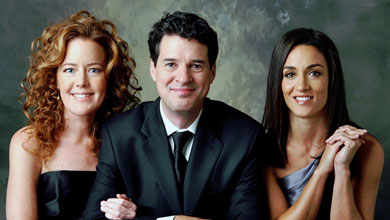 The concert will be available at the date and time shown. If you cannot view it initially, your ticket will allow you to see it once during the two weeks after the initial broadcast.
Call or email for more information
847-251-1400 Ext. 0
info@ChicagoChamberMusicSociety.org