Hermitage Piano Trio
Program
Amy Beach
Piano Trio in A minor, Op. 150
Edvard Grieg
Andante con moto For Piano Trio in C minor
Enrique Arbos
Three Spanish Dances, Op. 1
Gaspar Cassado
Piano Trio in C Major
Hermitage Piano Trio
The Hermitage Piano Trio was nominated for three Grammy Awards for their debut album, "Rachmaninoff." The Trio was founded in 2011 by three musicians who are noted soloists in their own right. Although they are all Russian-born, they are now U.S. citizens and are living in the United States.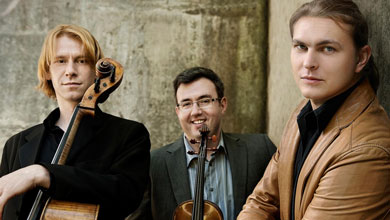 Individual tickets may be purchased at the door (cash or check only) immediately before each concert.
All concerts are held at a private club just off Michigan Avenue in Chicago.
Call or email Tricia Fusilero for more information
773-823-5569 x1012
office@ChicagoChamberMusicSociety.org