Hermitage Piano Trio
Program
Amy Beach
Piano Trio in A minor, Op. 150
Edvard Grieg
Andante con moto For Piano Trio in C minor
Enrique Arbos
Three Spanish Dances, Op. 1
Gaspar Cassado
Piano Trio in C Major
Hermitage Piano Trio
The Hermitage Piano Trio was nominated for three Grammy Awards for their debut album, "Rachmaninoff." The Trio was founded in 2011 by three musicians who are noted soloists in their own right. Although they are all Russian-born, they are now U.S. citizens and are living in the United States.
Program Notes
Amy Beach (1867–1944)
Piano Trio in A minor, Op 150 (1938).
Performance time: 15'
In 1938, Hitler invades Austria; Nobel Prizes awarded to Pearl Buck (Literature) and Enrico Fermi (Physics).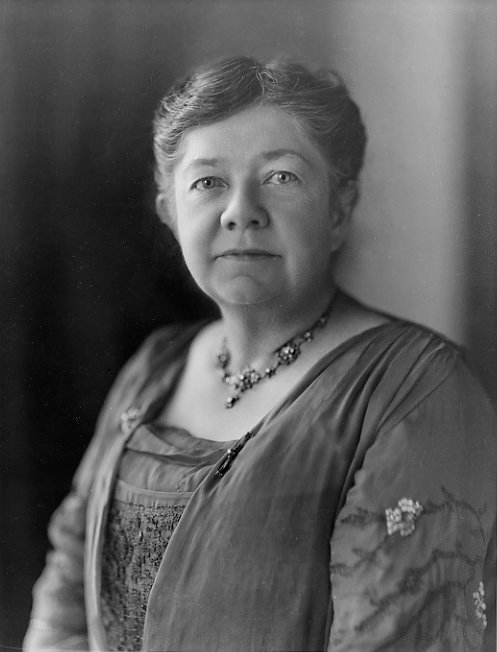 Amy Beach (1867–1944)
Late Romantic composer Amy Beach was known not only as a virtuoso pianist, making her debut with the Boston Symphony Orchestra at age sixteen, but also was the first American woman to compose successfully in large forms (opera, orchestral, choral). She studied formal composition very briefly at age fourteen, and only four years later she married a Boston surgeon who would not allow her to perform in public beyond just two performances a year. However, during their twenty-five year marriage, she composed prodigiously, and after he died she started to perform again publicly. She subsequently became widely recognized as both composer and pianist, and was known as "the Dean of American Women composers."
Beach's biographer Adrienne Fried Block wrote, "On the day in 1938 when she began her work on [this piano trio], Beach wrote in her diary, 'Trying a trio from old material. Great fun.' Her pleasure in making do with old material grew out of her composer's sense that musical ideas and themes from earlier works had further developmental possibilities. The result was one of her last compositions and an important addition to the Trio repertory. Indeed, these old materials include borrowings from an art song, a piano solo, and two folk melodies."
The first movement prominently features a piano figuration from an earlier piano solo, Morning Glories (listen here). For the second movement, Beach uses a form she pioneered with her first symphony, two song-like outer sections in 3/4 time, enclosing a rapid section in 2/4 time. Her source for the outer sections is one of her earlier art songs from 1887. The middle section of this movement, marked Presto (fast) is an Inuit song, The Returning Hunter (listen here) from her own setting of this folk song for a children's piano suite. This tune's charming nature, which was harmonically uncomplicated and light in texture, was appealing to Beach who obviously enjoyed the challenge of integrating contrasting styles into one composition. The third and final movement may also have been inspired by yet another Inuit melody, The Song of a Padlimio (listen here). Here it is played much more quickly than the original, and transformed into a ragtime cakewalk. Again, the second, lyrical theme in this movement strongly contrasts with the first. "Thus she knitted together the disparate styles among the three movements to stand as intriguing contrasts."
Beach wrote this Trio at the MacDowell Colony, the famous retreat for artists, composers and writers in New Hampshire. She completed it in fifteen days and premiered it a year later at the MacDowell Club in New York, playing the piano part herself.
Here is a beautiful performance of the entire work with by the Mendelssohn Trio: Ya-Ting Chang (piano) from Taiwan; Peter Sirotin (violin) from Ukraine; Fiona Thompson (cello) from England. They are based at Messiah University in Mechanicsburg, PA.
Edvard Grieg (1843–1907)
Andante con moto for Piano Trio in C minor, EG 116 (1878).
Performance time: 10'
In 1878, Leo Tolstoy's Anna Karenina is published; Thomas Edison patents the phonograph; yellow fever epidemic results in 120,000 cases and 20,000 deaths in the US.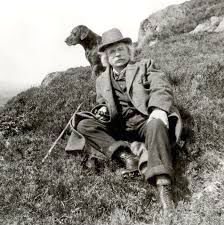 Edvard Grieg, with dog (1843–1907)
Edvard Grieg is Norway's most famous composer and is widely considered one of the foremost Romantic era composers. His use of Norwegian folk music in his own compositions highlighted the music of Norway, and helped to develop a national identity, much as Sibelius did in Finland and Smetana in Bohemia. But by 1878, Grieg confessed to "stagnating" because of the success of his popular works such as Peer Gynt, and he renewed himself by writing chamber music such as our work today.
In 1878, Grieg began work on a piano trio but only managed to complete one movement, the Andante con moto in C minor. The manuscript was discovered posthumously by Grieg's Dutch fellow composer and close friend of many years, Julius Rőntgen. And in fact, it wasn't published until 1978, a full hundred years after its composition. Upon examining it, Rőntgen wrote, "It is a beautiful piece and completely in order. What solemnity it conveys. Even in the major mode, it retains its mournful character and then so beautifully develops its full power. It can stand by itself and does not at all give the impression of being a fragment, as it constitutes a perfect entity in itself."
Rőntgen noted the movement's monothematic nature and called it a dramatic narrative with austere constraints. Using a single powerful theme of just six notes, Grieg leads us through an almost obsessive meditation on this brief theme. He introduces variety by changing the key, harmony, rhythm, tempo, instrumentation, and texture, but not the theme. The theme is also fragmented into motifs in a dramatic part of the development, leading to a powerful climax.
Click here for an exceptional performance of this work by Trio Shaham Erez Wallfisch. And if you are interested in learning more about this marvelous ensemble, here is a link to the trio's website which has their biographies and other material.
Enrique Fernández Arbós (1863–1939)
Three Spanish Dances, Op. 1 (1880's).
Performance time: 21'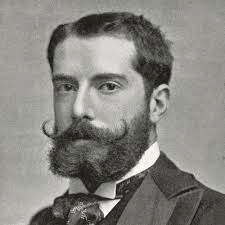 Enrique Fernández Arbós (1863–1939)
1884: Mark Twain publishes The Adventures of Huckleberry Finn; 1885: Statue of Liberty arrives in New York; 1886: Haymarket Square riot and bombing in Chicago.
Enrique Fernández Arbós originally made his name as a virtuoso violinist and later as one of Spain's greatest conductors. After studying violin in Madrid, he continued his studies in Brussels and later in Berlin under Joseph Joachim, a close friend and collaborator of Johannes Brahms. Arbós enjoyed a strong solo violin career and also served as concertmaster of several orchestras including those of Berlin, Boston and Glasgow. In 1904, he became principal conductor of the Madrid Symphony, which he led for nearly 35 years.
The full title of these three dance movements for piano trio is Three Original Pieces in Spanish Style, although Arbós liked to call the work his "Spanish Trio." He emphasized that the music was all his own work, and was not preëxisting folk material. This work evokes the rhythms, melodic inflections and emotional character of these three typical Spanish dances with just enough respect for the manners of the classical concert hall, and particularly of the haut bourgeois salon, where music for this combination of instruments flourished.
The movement is marked Bolero. The only Bolero that we may be familiar with is Ravel's, but there is nothing in this piece that sounds like that one except for the quick rhythmic drum-beat triplets used as the backdrop. Lively and formal, yet romantic, the music is captivating from first note to last, a real show piece, which, like the other two movements, could stand on its own. This is followed by an atmospheric and moody Habanera. The dramatic dance follows the typical rhythmic pattern we have to come expect, especially after Carmen, from this kind of dance. But the slower middle section has some interesting chromatic piano writing and other passages in the strings which create a new kind of Habanera out of the famous old standard. The deeply Spanish finale, Seguidillas gitanas (Gypsy songs), begins classically and then becomes more abandoned and less well-mannered than the previous two movements, and celebrates that near-universal European archetype of dangerous, enthralling sensuality, the Gypsy dancer.
Click here for a spirited performance of this work by the Trio Fibonacci, an internationally renowned Canadian ensemble.
Gaspar Cassadó (1897–1966)
Piano Trio in C major, EG116 (1878).
Performance time: 12'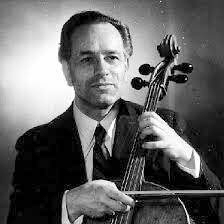 Gaspar Cassadó (1897–1966)
Almost forgotten now, Gaspar Cassadó may be on the verge of a rediscovery. As NPR only just reported, a trove of 64 unpublished manuscripts by the composer was given to Tamagawa University's Museum of Educational Heritage by Cassadó's Japanese widow upon her death in 2001. Katie Tertell, an American cellist based in England, learned about this treasure and is attempting to gain access to it. The Spanish cellist and composer Gaspar Cassadó was born to a music family. His father Joaquin was a pianist, church musician and respected amateur composer and his brother Agustin was a talented violinist. Both sons studied with famous teachers, and Gaspar in particular worked with Pablo Casals.  He and Casals had a very close friendship until Casals broke with Cassadó over his refusal to reject Franco during the Spanish Civil War. For a number of years, Cassadó father and sons performed as a successful piano trio. In Paris, Cassadó studied composition with Ravel and with Manuel de Falla as well as befriending the composers Joaquin Turina and Isaac Albéniz. Each of these composers would write music inspired by the rhythms, harmonies, melodies and colors of Spanish folk music, creating an instantly recognizable style of modern Spanish Nationalism. Hopefully, Ms. Tertell will be successful in accessing these archived manuscripts and we will be able to hear more of this composer's work, previously unheard, in the near future.
Written in 1926, Cassadó's piano trio is a delightful Spanish-tinged fantasy composed with the technical assurance of a composer well acquainted with chamber music from a pianist's point of view. We can say "fantasy" because of its relaxed formal structure and its liberation from the typical conventions of the piano trio tradition. The opening movement is not in typical sonata-allegro form, the middle movement is not a traditional slow movement, and a dance feeling is liberally scattered throughout the entire work.
All three movements make liberal use of features characteristic of the "Spanish sound." First, there is a melodic and harmonic tendency to move up and down by a half-step, mimicking Flamenco guitarists' moving stepwise up and down the guitar neck, creating a potent drama of tension and resolution. Second, Cassadó frequently embellishes his melodic lines with rapid three-note ornament that is an immediately recognizable signature of the style. And finally, he uses sharp rhythms and rapidly changing dynamics to evoke Spanish color and style.
Please click here for a performance of the work, as performed by Trio Mozart de Deloitte, all students at the Reina Sofia School of Music in Madrid, one of the top music conservatories in Spain.
In looking for a performance to include here, I found a very special video of a masterclass on the third movement of the trio. The ensemble is performing at the Chicago Symphony Orchestra Youth in Music Festival, and the instructor is Yo-Yo Ma. Click here for this masterclass. You mustn't miss the section that starts at 20:40.
—Program Notes by Louise K. Smith
With thanks to the Hildegard Publishing Co, Adrienne Fried Bloch, Edition Silvertrust, Kai Christiansen and National Public Radio.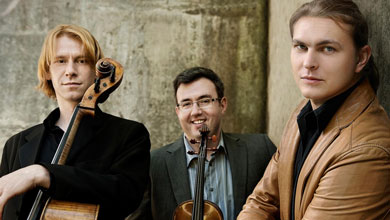 Individual tickets may be purchased at the door (cash or check only) immediately before each concert.
All concerts are held at a private club just off Michigan Avenue in Chicago.
Call or email Tricia Fusilero for more information
773-823-5569 x1012
office@ChicagoChamberMusicSociety.org