Los Angeles Piano Trio
Program
Turina
Piano Trio in B minor, Op. 76, No. 2
Rachmaninoff
Piano Trio No. 1 in G Minor, "Trio Élégiaque"
Brahms
Piano Trio No. 2 in C Major, Op. 87
Los Angeles Piano Trio
Each of these three musicians have highly successful careers as soloists, teachers, and collaborators. In 2020 they decided to bring their talents together as the Los Angeles Piano trio. At one of their first concerts, the presenter wrote, "You run out of superlatives trying to describe their artistry and their connection to each other and to the music they were playing."
Los Angeles Piano Trio website
Program Notes
Joaquin Turina (1882-1949)
Piano Trio in B minor, Op 76, No. 2.  (1932-33).
Performance time: 16'
For context, in 1932 when Turina wrote this trio, Vernon Duke wrote "April in Paris." Literature: Pulitzer Prize was awarded to Pearl Buck for The Good Earth. Art: Picasso painted "La Rêve". History: Amelia Earhart flew solo across the Atlantic. FDR was elected.
Spain enjoyed a musical "Golden Age" during the Renaissance and then was largely overshadowed by the prevailing European styles from Italy, France, and German-speaking countries. But Spain found its voice once again with the rise of musical nationalism in the late 19th century and with the emergence of modern masters Albéniz, Granados, and de Falla. It was Albéniz who provided the necessary connections for Joaquín Turina to study in Paris and it was there that Turina came to know Debussy, Ravel, and Fauré, who all profoundly influenced his music. Yet, both Debussy and Ravel were themselves captivated by the sounds of Andalusia, the flavors and idioms of which Turina could borrow back quite naturally and authentically.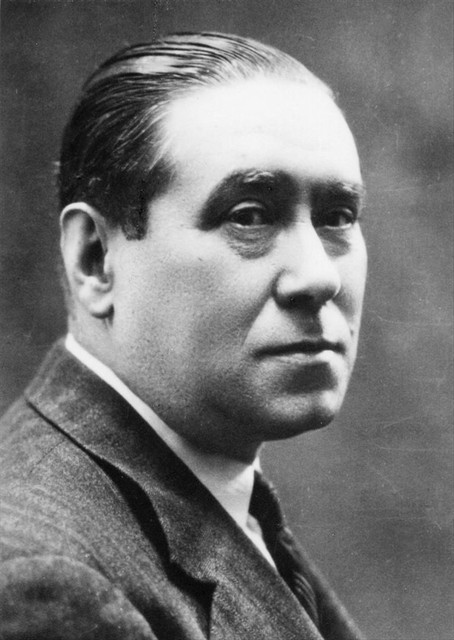 Joaquin Turina
The first movement of this trio, from Turina's mature period, has a classical structure. It features two gorgeous themes, the first one in minor with the piano's arpeggios (broken chords) providing the underpinning for the violin and cello who alternate their singing of a lush melody. Then comes the second contrasting theme with a new bright, brilliant melody. The movement ends with the return of the opening material. One can hear hints of Spanish melodies and also hear the harmonic progressions as chords moving up the neck of a Spanish guitar. The second movement is a jota, a traditional lively Spanish dance. This is in the unusual time signature of 5/8 (think Dave Brubeck's "Take Five"). If you can't quite tap your toe, for this one you can just count a very fast "5" and you'll get there. The plucked strings (pizzicato) as melodic punctuation evoke castanets which typically accompany a jota. The finale incorporates themes from the previous movements, while alternating with sparkling new material. The trio ends with a recapitulation in a dazzling celebration.
Here is a link to a performance at the Colburn Chamber Music Society, Los Angeles with Stephen Tavani (assistant Concertmaster, Cleveland Symphony Orchestra), Ronald Leonard (former principal cellist, Los Angeles Symphony Orchestra), and Jon Kimura Parker (internationally celebrated soloist and collaborative pianist).
Sergei Rachmaninoff (1873–1943)
Piano Trio in G minor, "Trio élégiaque". (1892).
Performance time: 15'
In 1892 Leoncavallo's "I Pagliacci" premiered. Literature: Rudyard Kipling's "Gunga Din" was published. Art: Claude Monet started painting the Rouen series. History: Ellis Island opened.
Russian composers often have used the piano trio as a vehicle for tributes or memorials, and Rachmaninoff, in his two piano trios, did both. While a 19 year-old conservatory student, Rachmaninoff wrote his first trio in 1892 as a tribute to his friend, father figure and supportive mentor Pytor Ilych Tchaikovsky. Indeed, Tchaikovsky had also written a piano trio eleven years earlier as his own memorial to his mentor and friend Nikolai Rubenstein, and titled its first movement "Pezzo elegiaco," which Rachmaninoff used as the title (in French) for his trio. A year later, Rachmaninoff composed his second trio as a memorial to Tchaikovsky immediately after he learned of his dear friend's death.
Rachmaninoff went on to perform, compose and conduct in Russia and Germany, leaving Russia in 1918 to settle in New York City with his family. In America, he had a successful performance and conducting career, but it didn't leave him much time for composing. He completed just six more works before his death in 1943.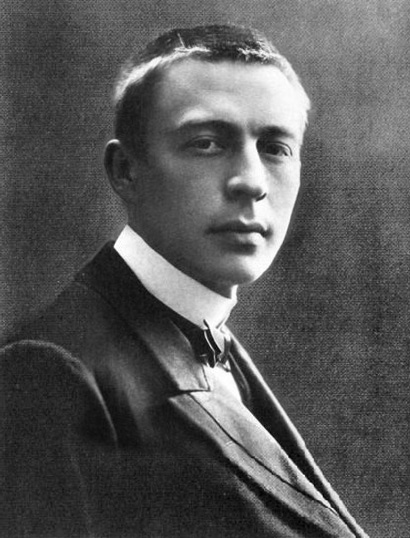 Sergei Rachmaninoff at 19
Rachmaninoff's pianistic virtuosity is manifest here. This trio is a work in one movement, while most piano trios have three or four. This has distinct sections demarcated by changes in theme, mood and rhythm, and its three melodies are tossed between the instruments. The elegy is presented as the first theme. Emotional intensity builds through a "fff" ("very loud indeed") appassionato section and finally resolves softly as a funeral march.
The similarities between the Tchaikovsky trio and Rachmaninoff's first trio are remarkable. Although the Rachmaninoff work is 1/3 the length of the Tchaikovsky, the Rachmaninoff melodies, structure and even the funeral march ending are clearly inspired by the Tchaikovsky. Here are links to performances of both works: Tchaikovsky and Rachmaninoff. The Rachmaninoff trio here is performed by the legendary Borodin Trio, comprising three Russian émigrés and named after Alexander Borodin, one of the founders of Russian chamber music, making a double (maybe triple) connection to Rachmaninoff.
Johannes Brahms (1833-1897)
Piano Trio No. 2 in C Major, Op. 87. (1882).
Performance time: 29'
In 1882, Tchaikovsky's "1812 Overture" premiered. Literature: Virginia Wolff was born. Art: van Gogh started painting on the Dutch seacoast. History: Thomas Edison flipped the switch on first commercial power plant in US.
Brahms' C Major piano trio shows the composer at his most glorious, powerful self. Soaring melodies, complex harmonies, and intricate rhythms are all here in a work of broad emotional range and depth. He was 49 when he wrote this trio, and was extremely successful and recognized as a leading composer of his day.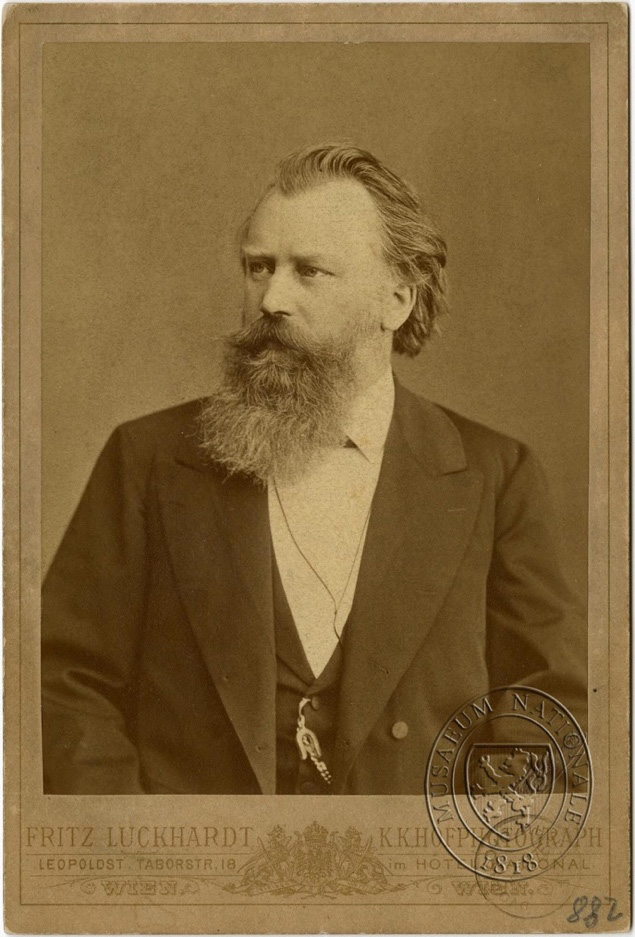 Johannes Brahms at 50
The noble opening theme of the trio's first movement is played in unison by the two strings, who are often paired throughout this entire work to give offsetting weight to balance the piano. The second movement features a characteristic rhythmic figure: short-long, short-long, on a repeated melodic tune. It has five variations: the first, third and fifth variations are based on the string melody, and the second and fourth are based on the piano accompaniment. The third movement, in A-B-A form, starts in a mysterious, somewhat scary mood. In the A section, all players must be particularly delicate while at the same time precise and balanced. We then sweep into a gorgeous, expansive B section with a new theme moving between the three instruments, and then we return to the opening A section. The exhilarating fourth movement has two contrasting themes: the first one, with strings once again mostly playing together, is at once exhilarating and genial. In the second theme Brahms uses a favorite rhythmic pattern of "two" in the strings against "three" in the piano. This splendid trio is one of Brahms' masterworks.
Here is a link to a performance of this work with Joseph Suk (violin), János Starker (cello) and Julius Katchen (piano).  These three musicians famously collaborated on recordings of all of the Brahms piano trios.
—Program Notes by Louise K. Smith
Thanks to Kai Christiansen, Melvin Berger and Lucy Miller Murray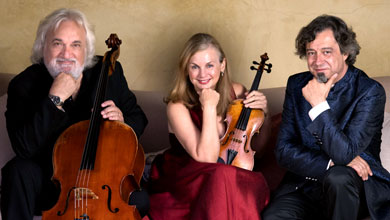 Individual tickets may be purchased at the door (cash or check only) immediately before each concert.
All concerts are held at a private club just off Michigan Avenue in Chicago.
Call or email Tricia Fusilero for more information
773-823-5569 x1012
office@ChicagoChamberMusicSociety.org