Borromeo String Quartet
Program
Haydn
String Quartet in F Major, Op. 74, No.2
Eleanor Alberga
String Quartet No. 2
Prokofiev
String Quartet No. 2 in F Major, Op. 92
Borromeo String Quartet
The Borromeo String Quartet is an American string quartet in residence at the New England Conservatory since 1992. They have performed throughout North and South America, Europe, and Asia at numerous festivals and in distinguished chamber music series. Among the many awards they have won during their illustrious career are Lincoln Center's Avery Fisher Career Grant and Chamber Music America's Cleveland Quartet award.
Borromeo String Quartet website
Program Notes
Joseph Haydn (1732-1809)
String Quartet in F Major, Op. 74, No. 2 (1793).
Performance time: 22'
In 1793, the Louvre opened to the public; English edition of Benjamin Franklin's autobiography published; Eli Whitney filed U.S. patent application for his cotton gin.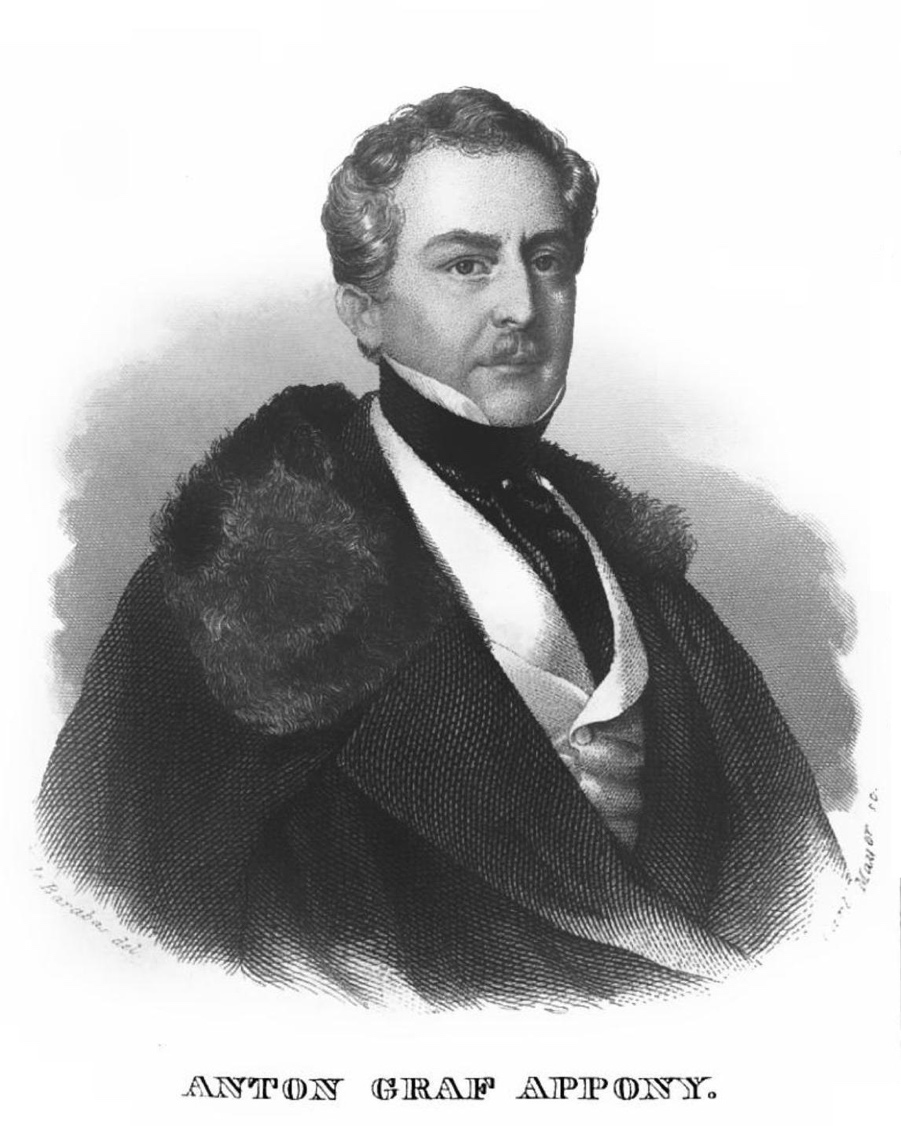 Count Anton Apponyi, Haydn's friend who commissioned three string quartets.
For nearly 30 years, Haydn was steadily employed in service to the Esterházy princes. But when Prince Nikolaus died, his son immediately dismissed nearly all the musicians whom his father had employed. Haydn was retained, but without any particular duties. But Prince Nikolaus had left Haydn a generous annuity and pension, and Haydn started to explore his world, making two long, successful trips to London. Upon returning from his first trip, Count Anton Apponyi, a friend of Haydn's, commissioned three string quartets, the second of which is ours today.
This quartet opens with a forceful unison statement, followed by a number of varied subsidiary themes. He also makes considerable use of trills to add interest and to call special attention to particular notes. The movement's second section is full of intense, virtuosic passages for all the instruments.
The Andante grazioso movement shows off an elegant theme and three variations. In the first, the melody is given to the viola and the cello; in the second variation, he gives the melody to the second violin; in the third variation, the viola and cello together play rapid figures through to the end.
The light, jolly theme of the Finale is so attractive that Haydn published it as a separate piano piece. The second theme is serious and slow. These two themes alternate through the movement, racing to a spectacular finish.
Click here to hear the Tátrai Quartet perform this work. We've chosen this particular performance in honor of Haydn's Hungarian background, as the Tátrai was itself a Hungarian string quartet founded in 1946. For the half-century after World War II it was one of the foremost string quartets in Hungary, specializing in Haydn and Bartók.
For fun, click here for a performance of Haydn's own transcription for piano of the fourth movement of this work. (Unfortunately, the performer Is not named.)
Eleanor Alberga (1949-)
String Quartet No. 2 (1994).
Performance time: 15'
In 1994, restored Sistine Chapel re-opened; Tony Blair elected Labour Party leader; Jeff Bezos launched Amazon.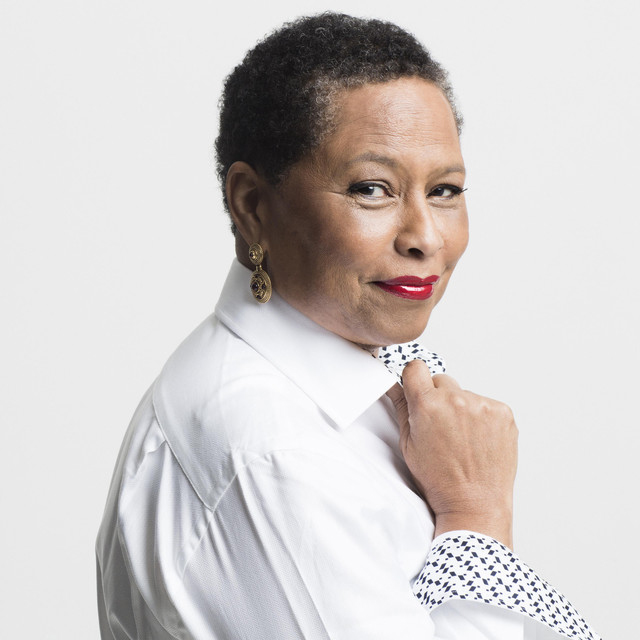 Eleanor Alberga
Eleanor Alberga is a highly regarded British composer whose output ranges from solo instrumental works to vocal, orchestral, chamber, stage and screen works. Born in 1949 in Jamaica, Alberga started to compose at age 10. She is a graduate the Royal Academy of Music and in 2021 she was awarded an OBE for services to British music.
This quartet is a one-movement work divided into three sections which flow into each other. The opening motive is the foundation for the whole piece. Alberga breaks this motive into two parts: (a) three fast notes, then (b) a group of long notes as an answer. Each instrument rearticulates these two parts, constantly transforming the motive. The second section features the cello with a lyrical melody supported by slow-moving harmonies. The third section moves into a sparkling, higher register, with plucked strings creating texture, with the tune passed to each instrument. A recollection of the middle section leads to a passionate finale.
Click here to hear a performance of this quartet performed by the Ensemble Arcadiana. This ensemble was born out of the Arcadia Festival, founded in 2010 by the composer Eleanor Alberga herself and her husband.
Sergei Prokofiev (1891-1953)
String Quartet No. 2 in F Major, Op 92 (1941).
Performance time: 22'
In 1941, U.S. National Gallery of Art opened; Noël Coward's "Blithe Spirit" premiered; penicillin first used for treatment.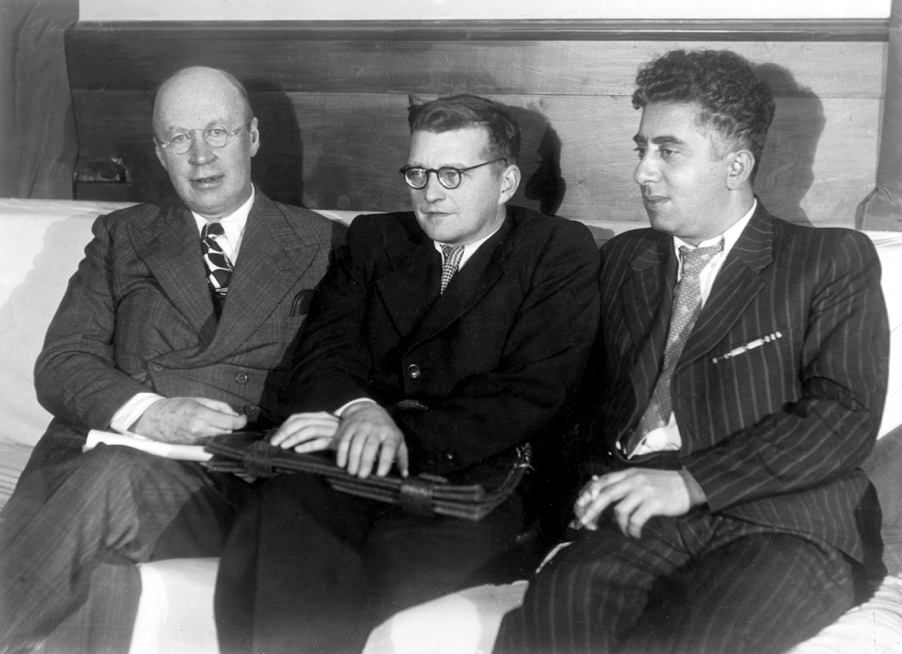 Three famous Soviet composers (left to right): Sergei Prokofiev, Dmitri Shostakovich, and Aram Khachaturian at the plenum for the organizing committee of the Union of Soviet Composers, October 4, 1946.
Just after the Russian Revolution of 1917, Prokofiev decided to emigrate to America, believing that there was no place or need for artists in the new Soviet society. But in 1933, homesick and "not unsympathetic to communist ideals," he returned home. His compositional life was varied and prolific. In 1936, he wrote "Peter and the Wolf" for a children's theater, and in 1940 he wrote the ballet "Romeo and Juliet." In 1941 Hitler attacked the Soviet Union and the Soviet government evacuated a group of leading artists, composers and writers, including Prokofiev, moving them from Moscow to a quiet town in the Caucasus mountains. A local arts administrator introduced Prokofiev to little-known indigenous folk music, and he was inspired to use several of the song melodies in this string quartet. Officials objected to what they called his excessive use of "barbaric" harmonies and "strident" timbres, but nevertheless, the work was a popular success.
The forceful principal theme of the first movement, from an authentic folk song, combines naïveté with a military march. The first violin brings in a dance tune, and finally the large development section features brilliant sonorities and tonal effects before a reprise of the opening measures.
The second movement presents a local folk song, which is transformed into a sprightly dance. Here the accompaniment imitates the sound of a native Caucasian stringed instrument called a kemenche.(Click here for a demonstration of this folk instrument.) 
The third movement returns to the folk dance/military march spirit of the first movement, but in a whirl of notes that are new for us. It ends with a triumphant conclusion.
Click here to listen to an historic performance by the Beethoven String Quartet, the very ensemble who premiered this work in Moscow in 1942.
—Program Notes by Louise K. Smith
Thanks to Melvin Berger, James Keller and Lucy Miller Murray
Individual tickets may be purchased at the door (cash or check only) immediately before each concert.
All concerts are held at a private club just off Michigan Avenue in Chicago.
Call or email Tricia Fusilero for more information
773-823-5569 x1012
info@ChicagoChamberMusicSociety.org