The Lyric Ensemble
Program
W.A. Mozart
Oboe Quartet in F Major, K/. 320
W.A. Mozart
Horn Quintet in E-flat Major, K. 407
W.A. Mozart
Clarinet Quintet in A Major, K. 581, "Stadler"
The Lyric Ensemble
Comprised of a group of Chicago orchestral musicians who came together to play chamber music during the COVID crisis, these string and wind players are enjoying performing in the more intimate setting of chamber music, playing different repertoire, and performing more as a group of soloists.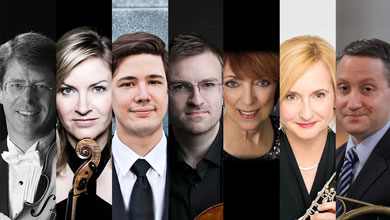 Individual tickets are sold only at the door.
All concerts are held at a private club just off Michigan Avenue in Chicago.
Call or email for more information
847-251-1400 Ext. 0
info@ChicagoChamberMusicSociety.org