Virtual Concert by the Jupiter String Quartet
Program
Jupiter String Quartet
Nelson Lee & Meg Freivogel, violins
Liz Freivogel, viola
Daniel McDonough, cello
George Walker (1922–2018)
Lyric for Strings
Michi Wiancko
Excerpts from To Unpathed Waters, Undreamed Shores
Franz Schubert (1797–1828)
String Quartet No. 14 in D minor, Death and the Maiden

I Allegro

II Andante con moto

III Scherzo: Allegro molto

IV Presto
Jupiter String Quartet
The Jupiter String Quartet is a particularly intimate group, consisting of violinists Nelson Lee and Meg Freivogel, Violist Liz Freivogal, who is Meg's sister, and cellist Daniel McDonough, Meg's husband. Now enjoying their 19th year together this tight-knit ensemble is firmly established as an important voice in the world of chamber music. The New Yorker claims, "The Jupiter Quartet, an ensemble of eloquent intensity, has matured into one of the mainstays of the American chamber music scene."
Their chamber music honors and awards include the grand prizes in the Banff International String Quartet Competition and Fishoff National Chamber Music Competition. They have been artists-in-residence at the Chamber Music Society of Lincoln Center and at the University of Illinois.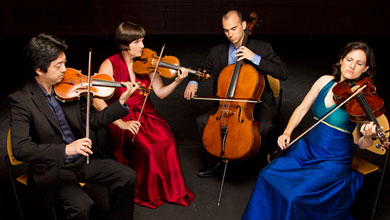 This is a virtual event. Tickets are $15 per person.
The concert will be available at the date and time shown. If you cannot view it initially, your ticket will allow you to see it once during the two weeks after the initial broadcast.
Call or email for more information
847-251-1400 Ext. 0
info@ChicagoChamberMusicSociety.org