Brentano String Quartet
Program
Franz Joseph Haydn
Quartet in D Major, Op. 71, No. 2
Bach/Bruce Adolphe
"ContraDictions"
Bach/Steve Mackey
"Lude"
Ludwig van Beethoven
String Quartet in F Major, Op. 135
Brentano String Quartet
The Brentano String Quartet is celebrating their 30th year with a concert that begins with a Haydn quartet that was the first piece they played at their very first concert as a quartet. Since its inception in 1992, the Brentano has appeared throughout the world to popular and critical acclaim. The Quartet garnered the first Cleveland Quartet Award and the Naumburg Chamber Music Award. They have served as Quartet-in-Residence at many prestigious institutions and are currently the Resident String Quartet at the Yale School of Music.
Brentano String Quartet website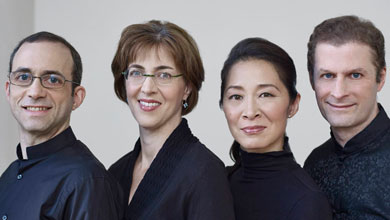 Individual tickets are sold only at the door.
All concerts are held at a private club just off Michigan Avenue in Chicago.
Call or email for more information
847-251-1400 Ext. 0
info@ChicagoChamberMusicSociety.org
Our performance venue is in a private club which will influence the safety protocols we will ask our audience to follow for each concert. This will be consistent with the City of Chicago's most current recommendations for indoor activities.
At this time, we expect our patrons to wear masks while in the Ballroom for the performance, which is without intermission and less than an hour in duration. The seats will be placed at a greater distance from each other and the room is well ventilated. If this changes, we will notify you as soon as possible prior to each concert.
Our concern is for everyone's safety as we return to live performance.