Brentano String Quartet
Program
Franz Joseph Haydn
Quartet in D Major, Op. 71, No. 2
Bach/Bruce Adolphe
"ContraDictions"
Bach/Steve Mackey
"Lude"
Ludwig van Beethoven
String Quartet in F Major, Op. 135
Brentano String Quartet
The Brentano String Quartet is celebrating their 30th year with a concert that begins with a Haydn quartet that was the first piece they played at their very first concert as a quartet. Since its inception in 1992, the Brentano has appeared throughout the world to popular and critical acclaim. The Quartet garnered the first Cleveland Quartet Award and the Naumburg Chamber Music Award. They have served as Quartet-in-Residence at many prestigious institutions and are currently the Resident String Quartet at the Yale School of Music.
Brentano String Quartet website
Program Notes
Franz Joseph Haydn (1732-1809).
String Quartet in D Major, Op. 71, No. 2 (1793).
Performance time: 20'
This very day, 3/31/2022, is the 290th anniversary of Joseph Haydn's birthday! He is known as the "father of the string quartet," but he did not, Zeus-like, pluck the genre fully formed from his head. He nurtured and developed his quartets over decades, paying homage to Bach, and inspired Mozart, who inspired him in return. As court composer for Prince Nikolaus Esterházy, Haydn spent thirty years in provincial seclusion. Nevertheless, his fame spread rapidly. When Esterházy died in 1790, the impresario Salomon whisked Haydn off for an extended visit to London, which transformed him from merely one of Europe's most noted composers into a true cultural giant. London, and an enlarged, public sphere for his concerts, had its effect on Haydn, who wrote hundreds of compositions while there, and he developed expanded, more public musical style.

Haydn, in storm at sea during his crossing the Channel to London.
The opus 71 no. 2 Quartet is one of these; it starts with a grand, booming chord—to get those latecomers to settle down and stop talking—and extends a gracious Adagio just long enough to assure that the audience is paying full attention before launching into the main Allegro. This movement is a nimble game of hot potato: a hopping octave gesture merrily tossed among the four players. The movement is Exhibit A for the utterly social nature of Haydn's polyphony: where Bach's writing richly folds each voice's contribution into an intricate whole, Haydn focuses on the witty reaction, the quick repartee, the play on words.
The quiet, glowing slow movement is a tender aria, preferring the lower register of the cello. Here is compassion, a shared ache, a quiet commentary. This reverie ends with an abrupt exclamation catapulting us into the bumptious and good-natured Minuet.
The finale begins innocently, an amiable tune between the four voices. The detail that suggests a twinkle in the eye is an off-balance stutter, where the instruments are briefly out of sync. Now the four voices start to have a minor-key quarrel about it. They settle down to work through things more reasonably, but they get tripped up again by the earlier stutter. This time it is stuck comically like a broken record, until the first violin finally yanks the conversation back to the opening topic, decorated with sixteenth-note filigree. Now the music bursts into a faster, exuberant coda, bringing the movement to a virtuosic conclusion.
Click here to listen to this quartet performed by the Maxwell Quartet. This award-winning ensemble consists of four close friends who grew up in Scotland playing classical and folk music together.
J.S. Bach/Bruce Adolphe (Bach: 1685-1750; Adolphe: 1955- )
"ContraDictions"
and
J.S. Bach /Steve Mackey (Mackey: 1956-)
"Lude" (2002).
A fugue is a musical form in which a single voice states an idea, which is then taken up and imitated by the other voices in the group. In a good fugue, the effect is that of a learned discussion of an interesting topic by a group of people, each of whose contributions illuminates and increases the beauty of the composite whole. J. S. Bach is considered to be the greatest composer of fugues and in the last decade of his life, he embarked on a project called "The Art of Fugue," in which he wrote fugues and canons on a single subject. This masterwork, in its incomplete state, has ever fascinated musicians and music lovers. To celebrate their 10th anniversary, the Brentano Quartet invited ten important living composers to write short pieces, each for a different fugue from Bach's masterpiece. On this program we hear two of the ten, paired with their respective Bach fugues (or "contrapuncti").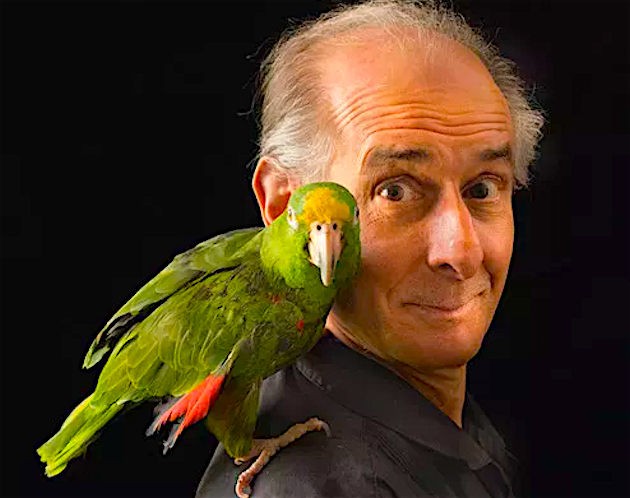 Bruce Adolphe
Bruce Adolphe chose Contrapunctus no. 2, in which Bach changes the basic rhythm of his main idea, giving it a slightly awkward yet dignified limp. In the companion piece, "ContraDictions," Adolphe magnifies these moments, often making time stand still at the tense point, meditating on it. In a central section, graceful and airy, the main idea appears in one voice while the others dance around it in unison; over time, the tone intensifies, becoming rhythmically denser and finally reaching a crisis. Adolphe is a master at portraying how one might examine an object, becoming obsessed with it, feeling now tender towards it, now frustrated by it, an apt description of what these fugues have been for later composers.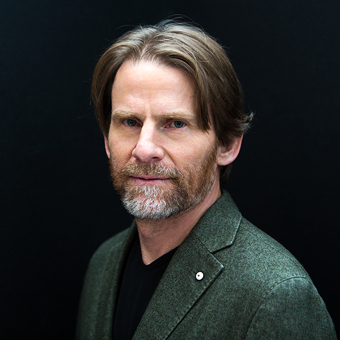 Steve Mackey
Steven Mackey chose Contrapunctus no. 11, a complex fugue where Bach uses a halting, stuttering version of his main idea, and then adds two other melodic subjects to the mix. Mackey audaciously chose to toss both his composition and Bach's into a mixing bowl and make one piece out of them, where the music alternates between Mackey and Bach, one dissolving and melting into the other from time to time. Since his work serves as prelude, interlude, and postlude for the Bach, Mackey simply titled this blended result "'Lude." The two ideas alternate, one commenting on the other. As with the Adolphe, we discover more questions and uncertainties, hinting that the search is "to be continued at a future date."
The Emerson Quartet, which began as a student group at the Juilliard School before turning professional in 1976, is one of best-known in the world. Its members have made more than 30 recordings together and have won nine Grammy Awards. They announced last year that they will be disbanding in 2023 to allow their members to pursue their solo projects. Among their recordings is a complete version of the Art of Fugue arranged for string quartet. Below you will find links to the Emerson Quartet's recording of the subject and Contrapuncti 2 and 11 that we will hear today.
Here is the subject of all the fugues.
Here is the Contrapunctus no. 2
Here is the Contrapunctus no. 11
Ludwig van Beethoven (1770-1827).
String Quartet in F Major, Op. 135 (1826).
Performance time: 25'
Opus 135 was the last complete work Beethoven composed. Whereas the other late quartets are monumental in scale, sprawling in their expressive scope, opus 135 stands apart: tightly reasoned, having an airy and transparent texture, playful and teasing. Beethoven here seems to have attained a new, simple truth.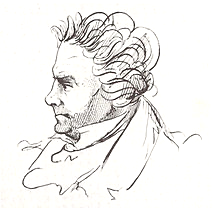 Caricature of Beethoven by L.P. Lyser (1825)
The first movement begins with a four-note question in the viola, colored with a mock-serious minor note in the cello; the first violin answers with a giggling echo. Here Beethoven is signaling that he will have nothing to do with the old, earnest questions of existence or fate. Now ensues a genial Allegretto where friends share a melody or two, with everybody getting a piece of a fragment.
Next is a quicksilver scherzo. The parts at the beginning stage a rhythmic comic act, ill-fitting and awkward, everyone sitting on the wrong beat, stuck in the wrong meter before righting itself. The first violin then has playful, yet tense and expectant scales but then, berserk, it spins off on an impossible tangent before quietly closing.
The third movement: a dark hymn, a whispered prayer, which is the expressive center of gravity for this quartet. In fact, this is a theme with four variations, but they unfold in such a continuous fashion that this is not immediately obvious. It is a movement that overflows with forgiveness and love, but is also full of great sadness.
The final movement bears a strange inscription: "The Difficult Resolution" ("Der schwer gefasste Entschluss"). The slow introduction asks a question in the lower instruments, and is marked "Must it be?" ("Muss es sein"). The next section, joyful and affirmative, is marked "it must be!" ("Es muss sein!"). Two-thirds of this movement then unroll with high jinks and playful melody. Abruptly, the introductory question returns terrifyingly. With this final struggle, the beast is tamed and laid to rest. The music dances away, pianissimo, and is crowned by one final boisterous affirmation. Just what was this "difficult resolution"? Is it the laundry bill that has to be paid? Or is it about accepting death? We will never know.
Click here to listen to the Kuss Quartet's performance of this work. This quartet is based in Berlin and emphasizes Beethoven, quoting the motto of the final movement of Opus 135 on their website: "they seek to validate the eternal 'muss es sein?' of string quartet playing with their own brand of curiosity." Note that they are playing without music.
Program notes provided by the Brentano Quartet,
edited for length by Louise K. Smith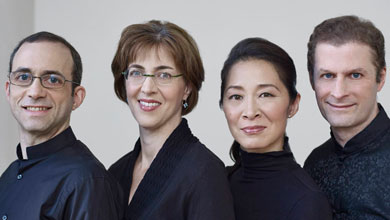 Individual tickets may be purchased at the door (cash or check only) immediately before each concert.
All concerts are held at a private club just off Michigan Avenue in Chicago.
Call or email for more information
847-251-1400 Ext. 0
info@ChicagoChamberMusicSociety.org