Atos Trio
Program
Mendelssohn
Trio No. 2 in C minor, Op. 66
Smetana
Trio in G minor, Op. 15
Atos Trio
Formed in Berlin, Germany in 2003 by Annette von Hehn (violin), Thomas Hoppe (piano), and Stefan Heinemeyer (cello), the Atos Trio has established itself as one of the finest piano trios performing today. The Trio has performed in many of the world's most prestigious halls, including Carnegie Hall, Wigmore Hall London, and the Concertgebouw Amsterdam.
Program Notes
Felix Mendelssohn (1809-1847)
Piano Trio No. 2 in C minor, Op. 66 (1845).
Performance time: 30'
In 1845, Florida and Texas became the 27th and 28th states, respectively; "The Raven" by Edgar Allan Poe is published; blight strikes the potato crop in Ireland, starting the Great Famine; anesthesia is used in childbirth for the first time.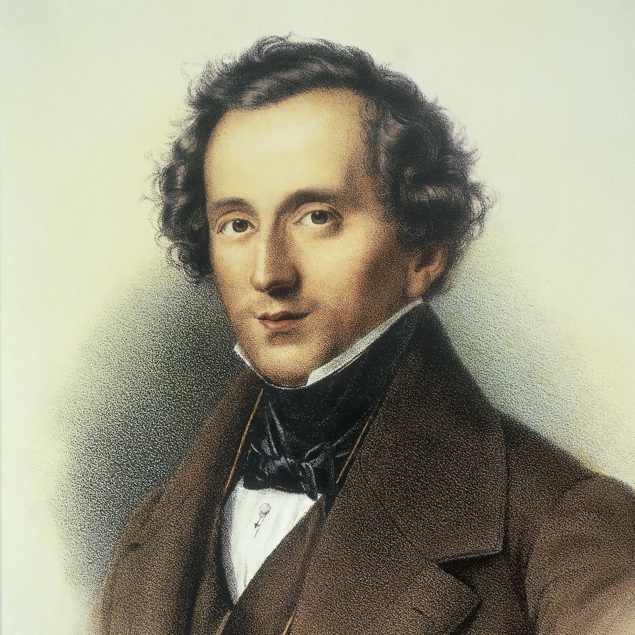 Felix Mendelssohn
Felix Mendelssohn is regarded as one of the Romantic era's foremost and greatest composers. Yet a few harsh critics say that because he was born into a wealthy bourgeois family, he failed to reach his full musical potential. But are we really to believe that poverty and struggle, conditions so often afflicting composers, are required to achieve greatness? Mendelssohn, a child prodigy who was beautifully educated, well-travelled, and certainly well-connected in musical circles, was in fact recognized by his peers and his audiences as brilliant, profound and supremely talented. He was deeply admired by Robert Schumann who called him the "Mozart of the nineteenth century," and Franz Liszt compared him to Bach. Sadly, Mendelssohn died at 38 of a brain hemorrhage, which appears to be the same cause of death of his sister Fanny, who had died just six months earlier and to whom he was extremely close. He gave us beautiful music in many genres: symphonies, concertos, oratorios, songs, piano works, and, of course, chamber music.
Mendelssohn wrote two piano trios; both are magnificent, but ours today, the second, is less familiar. It is a triumph of melody and structure, and demands total virtuosity from the ensemble. The first movement presents a gorgeous, aching melody handled by strings and piano. The second melody alternates between the violin and cello, with the return of the first theme at the conclusion in typical classical structure.
The second movement is a long, lovely song in three sections, with the strings in duet against the piano. Then the third movement features a sparkling, delicate piano part scampering up and down the keyboard. This movement is extremely challenging, demanding the utmost in virtuoso playing from each of the players. Perhaps its style might remind you of Mendelssohn's Overture to A Midsummer Night's Dream. Click here for a performance of the overture by the Leipzig Gewandhaus Orchestra of which Mendelssohn was Director in 1835.
The trio's finale starts with a passionate theme shared and explored by each player. Then, suddenly and surprisingly, there emerges a most familiar melody. Mendelssohn quotes the hymn tune "Herr Gott, dich loben alle wir" ("Lord God, we all praise Thee"), also known in English as "Old Hundredth." It is one of the best known melodies in many Christian musical traditions, and for centuries German Lutherans have sung this chorale on Christmas Day.  For a Christian American audience, it will be familiar as the Doxology. Indeed, J.S. Bach (deeply revered by Mendelssohn) used this chorale in his celebrated Christmas cantata 130. (Click here for a wonderful performance of the cantata.) No doubt, as German audiences heard this familiar tune in Mendelssohn's piano trio, they were silently mouthing its words. Surely this was a deliberate, fulsome statement of faith by a man raised as a Lutheran, and yet who was the grandson of Moses Mendelssohn, the preeminent Jewish philosopher and theologian of the 18th century. Mendelssohn combines the movement's first theme with the chorale, bringing the work to a dramatic conclusion.
Click here for a 2013 performance of this trio by Lionidas Kavakos, violin; Gautier Capuçon, cello; and Yuja Wang, piano, all now celebrity performers.
Bedřich Smetana (1824-1884)
Piano Trio in G minor, op. 15 (1855, rev. 1879).
Performance time: 29'
In 1855, Walt Whitman's "Leaves of Grass" published; Charlotte Brontë died; the original Smithsonian Institution Building in Washington, DC was completed.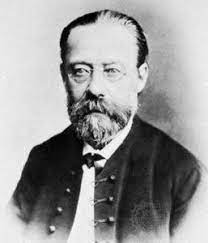 Bedřich Smetana
Bedřich Smetana is one of the trio of Czech composers we are most familiar with, the others being Antonin Dvořák and Leoš Janáček.  All three were strongly inspired by Czech folk music, none more than Smetana.  Several of his most famous and familiar compositions, which reflect both program and folk music, include the string quartet "From My Life," and the two tone poems The Moldau and Mà Vlast ("My Country").
Son of a brewer, Smetana studied violin and piano from an early age and played string quartets with other members of his family. He later studied in Prague and founded his own music school there with the financial assistance of Franz Liszt. Sadly, calamity and tragedy plagued his life. By 1874 he became totally deaf from syphilis. Three of his four daughters died, and then so did his wife.  In 1883 he entered a mental asylum in Prague where he died a year later, at age 60.
In 1855, Smetana wrote this trio as an expression of his abject despair over the death of his daughter Bedřiška from scarlet fever.  The work was performed three months later but wasn't published until 1879 in a revised version.
The anguished opening of the first movement is a dramatic statement by the violin alone, but piano and cello soon enter with equal passion. The piano part is as virtuosic as it is moving. A remarkable staccato statement by the piano leads to a lively section that would suggest a triumph over sadness, except for the continuous returns to the torment of the opening statement. There is a fervent building to a climax, a gentle dénouement, and a conclusion that bears a triumphant ring. The second movement offers momentary relief from the despair expressed in the first movement. Here we have a happier mood suggesting a child at play. The violin introduces a lovely lyrical song by all three instruments before climbing to a grand chorale, and returns to the opening motto before the conclusion. For the Finale, Smetana borrowed from a simple Czech folksong (listen here). Smetana embellishes the original tune and adds a virtuosic display for all three instruments. This includes repeated notes, pounding chords, brilliant arpeggios for the piano, and moving solo songs for both cello and violin. A solemn chorale suggests a funeral march preceding a brilliant and triumphant conclusion.
Click here for a recent recording of the trio, performed by three principals of Camerata Pacifica, the California chamber music presenter. Ani Aznavoorian, the cellist in this work, is familiar to Chicago audiences, as she has performed here frequently with her pianist sister Marta (both are Chicago natives). Ani performs on a cello built for her by her father, Peter. Paul Huang  plays on the legendary 1742 "ex-Wieniawski" Guarneri del Gesù on extended loan through the Stradivari Society of Chicago. Gilles Vonsattel is a Steinway artist.
Program Notes by Louise K. Smith
Thanks to Melvin Berger and Lucy Miller Murray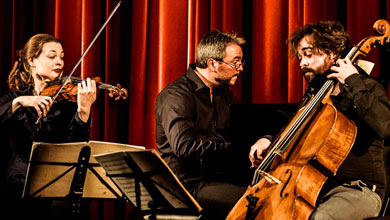 Individual tickets may be purchased at the door (cash or check only) immediately before each concert.
All concerts are held at a private club just off Michigan Avenue in Chicago.
Call or email Tricia Fusilero for more information
773-823-5569 x1012
office@ChicagoChamberMusicSociety.org