Virtual Concert by the Kouzov Duo, Dmitry Kouzov (cello) and Yulia Kouzov (piano)
Program
Ludwig van Beethoven
Variations on "Ein Mädchen oder Weibchen," Op. 66,
from Die Zauberflöte by Mozart
Ludwig van Beethoven
Cello Sonata No. 3 in A Major, Op. 69

I Allegro ma non tanto

II Scherzo: Allegro molto

III Adagio Cantabile: Allegro vivace
Robert Schumann
(1810–1856)
Fantasiestüke, Op. 73

I Zart und mit Ausdruck (Tender with expression)

II Lebhaft, leicht (Lively, light)

III Rasch und mit feur (Quick and with fire)
Pytor Tchaikovsky
(1840–1893)
Pezzo Capriccioso in B minor, Op. 62
The Kouzov Duo appears by arrangement with Lisa Sapinkopf Artists.
Kouzov Duo
Dmitry Kouzov was born in what is now St. Petersburg, where he began cello lessons at age 7. A graduate of the St. Petersburg Conservatory Lyceum, he later earned a BM and MM in cello performance at the Sibelius School in Helsinki and an artist diploma at the Juilliard School.
A first-prize winner at the International Beethoven Competition in the Czech Republic and a winner of the New York Cello Society Rising Star Award, Dmitry Kouzov has appeared with many orchestras throughout the world. He has been a guest artist at the Verbier Festival and the International Bach Festival among many others. He has appeared at the Caramoor and Ravinia festivals. Currently he is a member of the Oberlin Conservatory cello faculty.
Yulia Fedoseeva is also from St. Petersburg and has a busy career as a soloist, chamber musician, and teacher. To date, she has given hundreds of performances throughout Russia, Holland, Portugal, France, Germany, the UK and the U.S.
Program Notes
Ludwig van Beethoven (1770-1827)
Sadly, one of the causalities of this pandemic year was the celebration of the 250th anniversary of Beethoven's birth. How many artists had prepared big programs of Beethoven for the recital and concert hall which were cancelled? Happily, we will now hear two of his works, one of which is an important masterwork written during his Middle or "Heroic" period. This was an especially productive period for Beethoven in which he also produced such blockbuster works as the Third, Fifth and Sixth Symphonies, Fidelio, the "Waldstein" and "Appassionata" piano sonatas, and the Op.  59 String Quartets. The other work for today demonstrates his admiration of another past master and his easy skill at friendly play between two instruments.

Beethoven Monument in Bonn, his birthplace, erected in 1845 to celebrate his 75th anniversary
Ludwig van Beethoven (1770-1827)
12 Variations on "Ein Mädchen oder Weibchen," Op. 66,
from Die Zauberflöte by W.A. Mozart (1798).
Performance time: 10'
In 1798, Beethoven's audience would instantly recognize this aria from Mozart's The Magic Flute (it premiered in 1791, only seven years earlier) and they would clearly recall the bird-catcher Papageno's complaint that all he wants is a girl (Mädchen) or a little wife (Weibchen).  
Beethoven's twelve variations each have a dramatically different character or mood. They vary by tempo, time signature (waltz or march), major or minor.  Sometimes the piano takes the lead, sometimes the cello. The pair are clearly having a delightful conversation throughout these variations and the work ends with a smiling little diminuendo. 
We present two very old friends Martha Argerich (piano) and Mischa Maisky (cello) performing this work. 
Ludwig van Beethoven (1770-1827)
Cello Sonata No. 3 in A Major, Op. 69 (1807-09). 
Performance time: 27'
Beethoven was the first composer to write sonatas for piano and cello, and he wrote five of them. Since these had equally important parts for both instruments, the composer himself called them "sonatas for piano and cello" (instruments named in that order), although we colloquially call them "cello sonatas." The piano, still in technical development, was Beethoven's performance instrument. However, he was obviously drawn to the cello, and so perhaps it is natural that these five works present a beautiful pairing and balancing of both instruments. Dmitry Kouzov, our cellist today, notes that this sonata is really quite revolutionary, as this particular work is the first time that a composer wrote independent and equal voices for the two instruments.  This sonata is also the most lyrical and romantic of these five sonatas.
The solo cello states the noble opening theme which is repeated in many variations.  It is followed by a beautiful second theme in which the cello and piano engage in an intimate conversation. The second movement is built on syncopations and off-beat emphases. We hear the Scherzo section three times, the internal middle trio section twice. As that word itself means "joke," so the movement ends quietly with a brief chuckle. The Adagio cantabile of the final movement is indeed a beautiful "slow song," sounding like it is about to move into a full-fledged slow third movement. But it then surprises us by picking up and turning into a lively Allegro vivace with a brilliant celebratory conclusion.  
Two grand master Soviet/Russian musicians, Sviatoslav Richter (uncredited in this YouTube performance), piano and Mstislav Rostropovich, cello perform this masterpiece in this recording.  
Robert Schumann (1810–1856)
Fantasiestücke for Cello and Piano, Op. 73 (1849).
Performance time: 11'
Critical to our understanding of Robert Schumann's music is our recognition of his split personality. In his own essays he represented himself on the one hand as Florestan (free, bold, impetuous) and as Eusebius (dreamy, restrained, thoughtful).  Perhaps we can hear this duality in the Fantasiestücke.
The love of his life was Clara, who was herself a brilliant touring pianist, fine composer, and music teacher. She somehow also found time to be mother to eight children. Robert's mental illness dominated his life, resulting in one attempt at suicide by leaping into the icy Rhine, and a subsequent lengthy period in a mental institution where he died.

Robert Schumann (1810-1856)
Schumann composed Fantasiestücke in 1849, one of his most productive periods. The first movement, Zart und mit Ausdruck (Delicately and with expression), shows Schumann at his most marvelously lyrical. This brief, passionate song, both instruments are quite independent but work together collaboratively. The second movement, Lebhaft, leicht (Lively, light) continues this lyricism, and with sudden key changes and complex rhythmic material in both the piano and cello parts. The third movement, Rasch und mit Feuer (Fast and with Fire), opens with a passionate passage for both instruments, and continues with the lyricism of the earlier sections.
Mr. Kouzov comments on the unbelievably touching voice we hear in every singing note and the tremendous emotional contrast that exists within just one movement. He adds that as a performer, he gains enormous pleasure in searching for and finding the elusive character of the music while playing Schumann and invites the audience to listen for the same.
Choosing from the many wonderful YouTube performances of this work was difficult, but the following is exceptional for obvious reasons. Yo-Yo Ma, perhaps the best-known cellist of our generation and who performed at Barack Obama's inauguration, and Condoleezza Rice, avid amateur pianist and former U.S. Secretary of State under George W. Bush, here put aside politics and combined forces for this delightful performance.
Pytor Tchaikovsky (1840-1893) 
Pezzo Capriccioso in B minor, Op. 62 (1887).
Performance time: 8'
Tchaikovsky was destined for a career as a civil servant, but instead seized the opportunity to attend the Saint Petersburg Conservatory to study music. At that time in Russia the intelligentsia and upper classes admired Western European music. Yet Tchaikovsky was interested in Russian music with its distinctive melodies, harmonies and rhythms, and set about studying and composing in this style, and truly created his own personal voice which we easily recognize and love.

Pytor Tchaikovsky (1840-1893)
In just one week in the month of August 1887, Tchaikovsky composed this work for cello and orchestra.  He subsequently arranged it for cello and piano, as we hear it today.  He wrote this while staying in Aachen, Germany, to take the waters with a good friend who was terminally stricken with syphilis. The sometimes somber, sometimes fanciful nature of the work is a reflection of his emotional turmoil and his efforts to be supportive to the patient. Mr. Kouzov notes that this is a rare work in which the cello is given the opportunity to be truly virtuosic and at the same time must manage the emotional diversity and range of the work.  
Two distinguished musicians perform the work here in the orchestral version: Steven Isserlis, cello and Sir John Eliot Gardiner, conductor with the Chamber Orchestra of Europe.
Program Notes by Louise K. Smith,
with acknowledgements to Lucy Miller Murray and Melvin Berger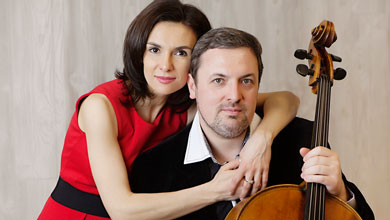 The concert will be available at the date and time shown. If you cannot view it initially, your ticket will allow you to see it once during the two weeks after the initial broadcast.
Call or email for more information
847-251-1400 Ext. 0
info@ChicagoChamberMusicSociety.org