Virtual Concert by the Kouzov Duo, Dmitry Kouzov (cello) and Yulia Kouzov (piano)
Program
Ludwig van Beethoven
Variations on "Ein Mädchen oder Weibchen," Op. 66,
from Die Zauberflöte by Mozart
Ludwig van Beethoven
Cello Sonata No. 3 in A Major, Op. 69

I Allegro ma non tanto

II Scherzo: Allegro molto

III Adagio Cantabile: Allegro vivace
Robert Schumann
(1810–1856)
Fantasiestüke, Op. 73

I Zart und mit Ausdruck (Tender with expression)

II Lebhaft, leicht (Lively, light)

III Rasch und mit feur (Quick and with fire)
Pytor Tchaikovsky
(1840–1893)
Pezzo Capriccioso in B minor, Op. 62
The Kouzov Duo appears by arrangement with Lisa Sapinkopf Artists.
Kouzov Duo
Dmitry Kouzov was born in what is now St. Petersburg, where he began cello lessons at age 7. A graduate of the St. Petersburg Conservatory Lyceum, he later earned a BM and MM in cello performance at the Sibelius School in Helsinki and an artist diploma at the Juilliard School.
A first-prize winner at the International Beethoven Competition in the Czech Republic and a winner of the New York Cello Society Rising Star Award, Dmitry Kouzov has appeared with many orchestras throughout the world. He has been a guest artist at the Verbier Festival and the International Bach Festival among many others. He has appeared at the Caramoor and Ravinia festivals. Currently he is a member of the Oberlin Conservatory cello faculty.
Yulia Fedoseeva is also from St. Petersburg and has a busy career as a soloist, chamber musician, and teacher. To date, she has given hundreds of performances throughout Russia, Holland, Portugal, France, Germany, the UK and the U.S.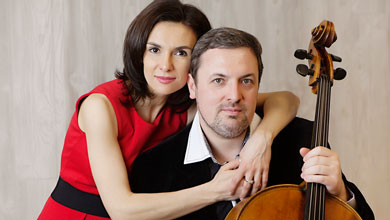 This is a virtual event. Tickets are $15 per person.
The concert will be available at the date and time shown. If you cannot view it initially, your ticket will allow you to see it once during the two weeks after the initial broadcast.
Call or email for more information
847-251-1400 Ext. 0
info@ChicagoChamberMusicSociety.org