Virtual Concert by the Dover String Quartet
The Chicago Chamber Music Society dedicates this concert to our late board members Barbara Hoffman and Jan Jentes, very valued members of our board and the CCMS community.
Program
Dover String Quartet
Joel Link, violin
Bryan Lee, violin
Milena Pajaro-van de Stadt, viola
Camden Shaw, cello
Samuel Barber(1910–1981)
String Quartet Op. 11

  II Molto adagio
Franz J. Haydn (1732–1809)
String Quartet in D minor, Op. 76, No.2

  I  Allegro

  II Andante o più tosto allegretto

  III  Menuetto:  Allegro ma non troppo

  IV  Finale:  Vivace assai
Antonín Dvořák  (1841–1904)
String Quartet No 13 in G Major, Op. 106

  I  Allegro moderato

  II Adagio ma non troppo

  III  Molto vivace

  IV  Finale:  Andante sostenuto; Allegro con fuoco
Dover String Quartet
The Dover String Quartet catapulted to international stardom following a stunning sweep of the 2013 Banff International String Quartet Competition. Since then, the Dover was named the Cleveland Quartet Award winner and honored with the coveted Avery Fisher Career Grant. Currently, they serve as quartet-in-residence at the Curtis School of Music along with maintaining a full virtual and in-person performance schedule.
The Dover String Quartet website
Program Notes
Samuel Barber (1910–1981)
String Quartet, Op. 11 (1936)
Performance time: 8'
Samuel Barber (1910–1981)
By age 28, Samuel Barber was already an extremely successful American composer and had written his first string quartet. He made an arrangement for string orchestra of the second movement of this quartet at the request of Arturo Toscanini, and in 1938, Toscanini and the NBC Symphony Orchestra premiered it on this radio broadcast. In the orchestral arrangement, the work is known as "Adagio for Strings." There have been other arrangements, including another by Barber as an "Agnus Dei" with an eight-part choir (in 1967).
The simplicity, emotion, and beauty of the "Adagio" have endeared it to the world, and it has been performed at sad and solemn occasions since its premiere. In fact, it has become one of the most widely performed works of contemporary American music. It is offered now as a meditation for those who have died or suffered during the coronavirus pandemic. 
Franz Joseph Haydn (1732–1809).  
String Quartet in D Minor, Op. 76, No. 2, "The Fifths" (1796)
Performance time: 20'
Franz Joseph Haydn (1732–1809)
Last season, we began our discussion of Haydn's biography starting as a boy soprano at St. Stephen's Cathedral in Vienna, and then moving to 29 years of service to the Hungarian prince Nikolaus Esterhazy's court. In 1790, Nikolaus and his wife died within months of each other, and his son and successor Prince Anton, who did not share his parents' interest in music, dismissed the orchestra. Haydn was kept on in a part-time role, but with no musical obligations. So, Haydn moved to Vienna where he immediately found much work and was commissioned to compose a number of symphonies and oratorios in London. He returned to Vienna when he was 64, where he was celebrated as the most important composer of his day: Mozart had just died, and Beethoven, only 20 years old, was still very early in his career.  At this time Haydn was commissioned by the Hungarian Count Jozef Erdödy to write six quartets, op. 76. We hear the second of the six.
Jozef Erdödy (1754–1824)
Camden Snow, cellist with the Dover Quartet, notes that this work in a minor key by Haydn, usually a person of a sunny disposition, is quite a stormy piece. The quartet is subtitled "The Fifths" which comes from the principal theme of the first movement. The two pairs of notes, played by the first violin, are two descending intervals each a fifth apart.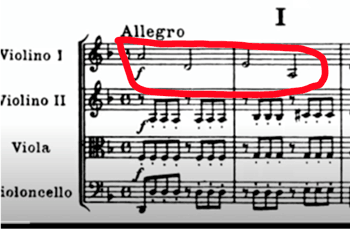 This motive is repeated no less than 95 times, certainly justifying that subtitle. Mr. Shaw points to Haydn's use of new and creative techniques, for example when the score calls for rapidly shifting dynamic changes between loud and soft on just two notes, or sometimes even on just one note. Mr. Shaw comments, "this creates a breathless, perhaps even ugly sound that we're usually trained not to do, and I can't think of another piece that we perform that asks for this special effect."
The second movement is a gentle segue between the relentlessness of the first movement and the intensity of the third, Menuetto. Here, Haydn again breaks new ground. Rather than hearing four separate independent voices, we have two pairs, one pair being the two violins, against the second pair of the cello and viola. These two pairs each play the identical theme but three beats apart, chasing each other in canon, in a "row, row, row your boat" manner. Finally, to wrap things up in Hungarian style, and perhaps both to honor the Hungarian count who commissioned the work and also reminding us of Haydn's Hungarian roots, we have a Gypsy-inspired Vivace ("quick and lively"). The first violin takes virtuosic prominence, playing with abandon, again with sudden changes in tempo and dynamics.   
The performance we offer here is by the Amadeus Quartet, a famous, brilliant and exceptional ensemble which was formed in 1947, the result of an English internment-camp meeting during World War II between three young Austrian Jewish refugees. More of their story is told here. 
Antonín Dvořák (1841–1904). 
String Quartet No. 13, in G Major, Op. 106 (1895)    
Performance time: 38'
Antonín Dvořák (1841–1904)
Born the son of a poor but musical butcher and innkeeper in Bohemia (now the Czech Republic), Antonín Dvořák escaped his father's plans to follow in the family's trade and instead fled to Prague. By the age of sixteen, he was studying Mozart, Schubert and Beethoven for performance and composition. Folk music of his native country was also a major inspiration, and he incorporated folk tunes, dances, and rhythms into much of his music. Indeed, Dvořák was acutely sensitive to his musical environment, and when he came to the United States to serve as director of the National Conservatory in New York (1892–1895), he listened with great interest to Black plantation songs and spirituals and to the music of American Indians. He incorporated that music into some of his most famous compositions such as the "American Quartet" and "The New World Symphony."  
Dvořák wrote this string quartet after he returned from America, and it is full of high spirits and good nature. The opening movement's first playful theme is repeated by each instrument in fresh and appealing ways. Then we come to the profoundly moving Adagio ma non troppo ("slowly but not too much"). Mr. Shaw notes that string quartet players regard this quartet with great reverence, and comments that they could easily perform this magnificent second movement as a standalone work just as they are playing only the second movement of the Barber string quartet at the start of this concert. The music moves through a wide range of emotional colors, from deep tenderness, through cold distant sadness and intense rage. The third and briefest of the four movements is again both playful and rhythmically complex and brings in folk-like elements. The Finale combines elements of the previous movements and joins up at the end for a joyfully brilliant conclusion.     
Here is a competition performance by the young American Attacca Quartet, whose biography may be read here.     
Program Notes by Louise K. Smith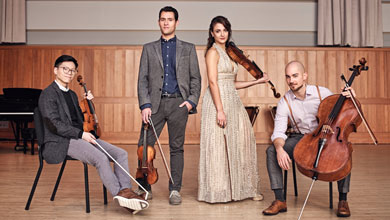 Individual tickets are sold only at the door.
All concerts are held at a private club just off Michigan Avenue in Chicago.
Call or email for more information
847-251-1400 Ext. 0
info@ChicagoChamberMusicSociety.org
Our performance venue is in a private club which will influence the safety protocols we will ask our audience to follow for each concert. This will be consistent with the City of Chicago's most current recommendations for indoor activities.
At this time, we expect our patrons to wear masks while in the Ballroom for the performance, which is without intermission and less than an hour in duration. The seats will be placed at a greater distance from each other and the room is well ventilated. If this changes, we will notify you as soon as possible prior to each concert.
Our concern is for everyone's safety as we return to live performance.