Jupiter Quartet with Tyler Duncan (baritone)
Program
Franz Schubert
String Quartet No. 14 in D minor, D 810 "Death and the Maiden"
Franz Schubert
song arrangements TBD
Jupiter Quartet with Tyler Duncan (baritone)
Formed in 2001, the Jupiter Quartet is a particularly intimate group, consisting of violinists Nelson Lee and Megan Freivogel, violist Liz Freivogel, who is the older sister of Meg, and cellist Daniel McDonough, who is Meg's husband. In their second decade of making music together, the quartet has established itself as an important voice in chamber music. In addition to their performing careers, the Jupiters have joined the faculty of the University of Illinois as String Quartet-in-Residence. They also hold visiting faculty residences at Oberlin Conservatory and Adelphi University.
Canadian baritone Tyler Duncan recently performed at the Metropolitan Opera as Prince Yamadori in Puccini's Madame Butterfly. He has also performed roles in Berg's Lulu and Rossini's Barber of Seville at the Met and various operatic roles at the Spoleto Festival, Pacific Opera Victoria, the Princeton Festival and the Boston Early Music Festival. Mr. Duncan's concert appearances range from Bach's St. Matthew's Passion to Beethoven's Ninth Symphony.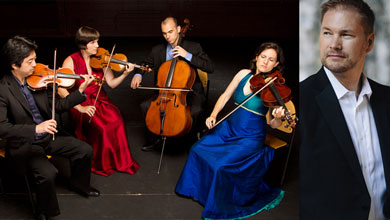 The concert will be available at the date and time shown. If you cannot view it initially, your ticket will allow you to see it once during the two weeks after the initial broadcast.
Call or email for more information
847-251-1400 Ext. 0
info@ChicagoChamberMusicSociety.org