Virtual Concert by the Merz Piano Trio
Program
Franz Joseph Haydn
Piano Trio No. 45 in E-flat Major, Hob. XV/29
Johannes Brahms
Piano Trio in B Major, Op. 8
Merz Piano Trio
Formed in 2017, this young trio has made a sweep of top U.S. competitions, taking gold medals at the 2019 Fishoff and 2018 Chesapeake Competitions. Based in Boston, the Merz Trio is the current Professional Trio in Residence at the New England Conservatory of Music.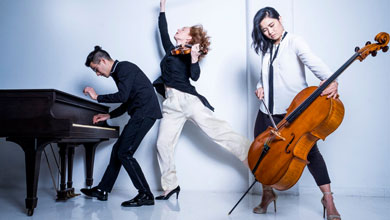 This is a virtual event. Tickets are $15 per person.
The concert will be available at the date and time shown. If you cannot view it initially, your ticket will allow you to see it once during the two weeks after the initial broadcast.
Call or email for more information
847-251-1400 Ext. 0
info@ChicagoChamberMusicSociety.org