Virtual Concert by the Merz Piano Trio
Program
Merz Piano Trio
Brigid Coleridge, violin
Julia Yang, cello
Lee Dionne, piano
Franz Joseph Haydn (1732–1809)
Piano Trio No. 45 in E-flat Major, Op. 86, No. 3, Hob. XV/29

I Poco allegretto

II Andantino e Innocentemente

III Allemande: Presto assai
Johannes Brahms (1833–1897)
Piano Trio No. 1 in B Major, Op. 8

I Allegro con brio

II Scherzo, Allegro molto

III Adagio

IV Finale: Allegro
Merz Piano Trio
Formed in 2017, this young trio has made a sweep of top U.S. competitions, taking gold medals at the 2019 Fishoff and 2018 Chesapeake Competitions. Based in Boston, the Merz Trio is the current Professional Trio in Residence at the New England Conservatory of Music.
Program Notes
Franz Joseph Haydn (1732-1809).
Piano Trio No. 45 in E-flat Major, Op. 86, No. 3, Hob. XV/29 (1797)
Performance time: 16'
We are now quite familiar with Haydn's Esterhazy career and genial personality. We remember his astonishing output and groundbreaking symphonies, concerti, chamber works, keyboard works and sacred music. And later, we recall his post-Esterhazy/Eisenstadt happy celebration in London and Vienna as well as his remarkable friendship with and impact on young Mozart. We can now explore some other aspects of Haydn's musical life, and spend a moment talking about the fact that most unfortunately, he left us with well over 1,000 unlisted, unorganized, and uncatalogued compositions.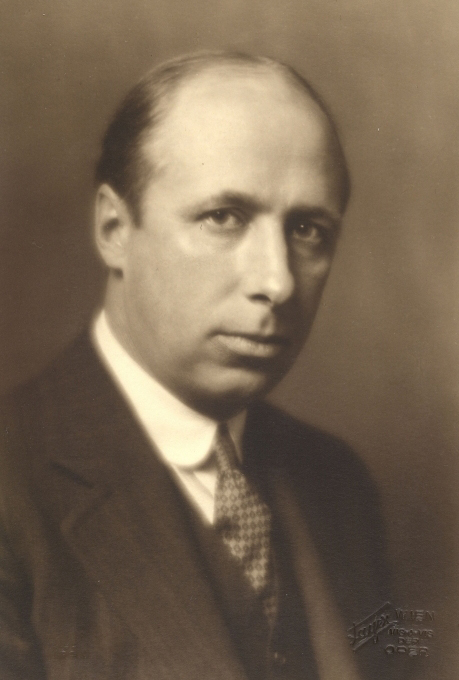 Anthony van Hoboken (1887–1983)
However, in 1919 a wealthy young Dutchman Anthony van Hoboken, who was trained in music, started to collect music manuscripts, including those of Haydn.  He undertook the extraordinary task of organizing and cataloguing them by musical genre. He worked on this project for over 40 years, and it was only completed in 1978 when the third and final volume was published. The premier musical authority New Grove, notes, "Hoboken's protracted study established the corpus of Haydn's huge output, dealt with the problem of arrangements and supposititious works and generally brought order and identity to a vast area where much confusion, contention and uncertainty reigned for 150 years. All future Haydn scholarship will be in Hoboken's debt."
In the listing above of the work we will hear today, you will see that it is designated as "Hob. XV/29." We can now unpack this meaning. "Hob." is obviously is the abbreviation for Hoboken's name, and "XV" is the genre of "Trios for Piano, Violin or Flute and Cello." Ours is no. 29 in this category. What about the rest of those numbers above? No. 45, Op. 86, No. 3? This is the work of yet another Haydn cataloguer, the American H.C. Robbins Landon, working between 1976-1980, who used a different cataloguing methodology for Haydn's works. Both Hoboken and Robbins Landon agree that this is Haydn's final trio.
One more note about catalogues that may be of interest to the CCMS audience: While many composers assigned their own catalogue opus ("op.") numbers (Beethoven, Brahms—see below—and Chopin immediately come to mind), others did not, and so we have "BWV" standing for Bach-Werke-Verzeichnis, and prepared by Schmieder, for Bach; Ludwig Ritter von Köchel, or "K", for Mozart; and Otto Erich Deutsch, or "D", for Schubert. We owe these musicologists that same debt. And that is the key to all of those mysterious letters and numbers in musical identification systems that is invaluable to musicians, musicologists and music lovers alike who need to be able to agree upon the identity of a given composition.
Today we are most fortunate that our pianist, Lee Dionne, gives us his detailed, interesting and helpful musical analysis and comments in his introduction to the Haydn trio. That will allow give us the opportunity to hear a different perspective, as Brigid Coleridge, violinist with Merz, also offered her thoughts about this recital. "This is a very personal program, as we have not played many concerts this past year. That means that these composers have really become people that we speak to every day—we have become very closely acquainted with them. With the Haydn in particular, we have come to understand his terrific wit, and his generosity in that he seems to be saying to the musicians, 'go on, how funny can you be?' And then, since he dedicated it to his friend Therese Jansen, a virtuoso German pianist based in London, in fact we can hear her shadow in this music. We can imagine the type of performer she must have been by hearing the music he is writing for the piano."
We can recommend the Trio Wanderer, an award-winning French ensemble, for a performance here of this trio.
Johannes Brahms (1833–1897).
Piano Trio No. 1 in B Major, Op. 8,
1854 and 1889.
Performance time: 38'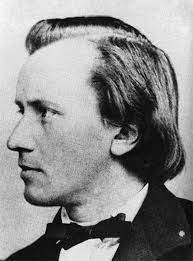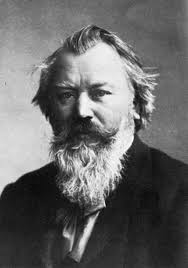 Johannes Brahms in youth and maturity
Most unusually, Brahms prepared this music twice: it was his first and also his last trio. He first wrote it when he was 20 in 1854 and then 35 years later, he returned to it and reworked it in 1889. A CCMS lagniappe: for its 1855 New York premiere, Theodore Thomas, the founder and first music director of the Chicago Symphony Orchestra, was on violin.
Brigid Coleridge again offers some sensitive commentary. "The Brahms B Major trio is one of those pieces that stays with you through your life as a performer and as a musician. The third movement acts almost as a prayer which is so intimate as though you are speaking in a voice you use for a person you love the most. It requires intense listening to each other, requires holding your breath, a sense of a life having been lived in this trio. But more than that, it is the younger and older Brahms too, talking to himself, a sense of someone returning to and accepting his younger self, the two selves talking to each other."
Other commentators hear this third movement as a song from Brahms to his beloved Clara Schumann, the unfulfilled love affair which developed and matured in that period intervening between the first and last iterations of the trio. And again, pianist Lee Dionne offers his excellent, musician's commentary on the entire Brahms piano trio.
It is a pleasure to offer a performance of this Trio by three outstanding young artists who were presented not as a prepared ensemble but who were gathered for the occasion by ChamberFest Cleveland in 2018. All three have performed, separately, at Ravinia. They are:
Alexi Kenney, violin. New England Conservatory graduate, Avery Fisher Career grant, Concert Artists Guild winner;
Oliver Herbert, cello. Curtis Institute graduate, Avery Fisher Career Grant winner;
Roman Rabinovich, piano. Curtis Institute graduate, Arthur Rubinstein International Piano Master Competition winner.
Program Notes by Louise K. Smith,
with acknowledgements to
Lucy Miller Murray and Melvin Berger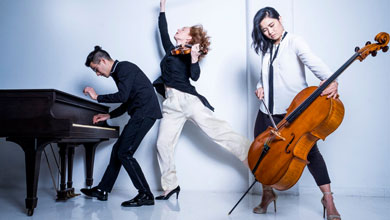 The concert will be available at the date and time shown. If you cannot view it initially, your ticket will allow you to see it once during the two weeks after the initial broadcast.
Call or email for more information
847-251-1400 Ext. 0
info@ChicagoChamberMusicSociety.org