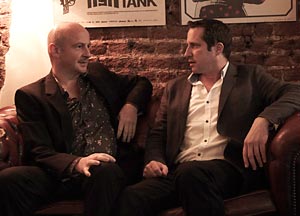 Eden-Stell Guitar Duo
Program
Mauro Giuliani
Grandi Variazioni Concertanti, Op. 130
Jean-Philippe Rameau
Pièces de clavecin
Francis Poulenc
Suite for Piano in C major
Frederico Mompou
Cançons I Dansas
Johannes Brahms
String Sextet in D minor, Op. 186
SEPTEMBER 27th, 2017
Wednesday at 11:30 a.m.
Eden-Stell Guitar Duo
Internationally renowned for their dynamism, innovation and breathtaking virtuosity the Eden-Stell Guitar Duo are widely regarded as one of the world's leading guitar duos. Mark Eden and Christopher Stell graduated from the Royal Academy of Music and continued their studies in Brussels with the Brazilian Guitar Duo. The duo's chameleon-like ability to communicate in a multitude of musical styles makes them a constantly evolving entity with an unique creative voice. The duo were the first guitarists since Julian Bream to be Editor's Choice in Gramaphone magazine with their landmark recording of works by Stephen Dodgson.
The Eden-Stell Guitar Duo website
Program Notes
Grandi Variazioni Concertanti, Op. 130
Mauro Giuliani (1781–1829)
Born in Southern Italy in the town of Bisceglie, Mauro Giuseppe Sergio Pantaleo Giuliani (his full name), was a leading guitar virtuoso of the early 19th century as well as a cellist, singer and composer. His early training was in Italy and by 1806 at the age of 25 he was living in Vienna, where he developed his compositional style. He was acquainted with Beethoven and Rossini and his concert tours took him throughout Europe. As a composer, he was very fond of the theme and variation form using both original themes or those of other composers. He favored arias from the operas of Gioacchino Rossini which he published in collections titled Le Rossiniane. The catalogue of his published works totals one hundred and fifty and forms the nucleus of 19th century guitar repertoire. Included are guitar concertos, chamber music and works for both solo guitar and guitar duo. He appeared in concerts with his daughter Emilia who was a skilled performer on the guitar.
Grandi Variazioni Concertanti is in A major and probably dates from 1828. The work consists of an extended introductionand an original theme followed by six variations. The fourth variation is in the parallel key of A minor and the fifth variation uses harmonics in imitation of a flute. The sixth variation includes a coda to the piece.
Pièces de clavecin (arr. by Sergio Abreau /S. Assad)
Jean-Philippe Rameau (1683–1764)
Rameau was the seventh child of a church organist in the city of Dijon. In his 20s he studied in Paris with the great French organist Louis Marchand. For a number of years he served as an organist in the cities of Avignon, Lyon and Dijon. The publication of his acclaimed Traité de l'harmonie followed his return to Paris in 1722 where during the next thirty years his numerous works for the theater brought him fame.
Francois Couperin and Jean-Philippe Rameau were the masters of French harpsichord music during the 18th century. Rameau composed four books of harpsichord pieces that were published in 1724. In common with Couperin, many of his pieces have evocative and fanciful titles. Transcription of harpsichord music for the guitar follows naturally from the similar sonority of plucked strings.
Le Rappel des Oiseaux portrays the call of birds with ornamental trills to evoke fluttering bird song. Les Tendres Plaintes is in rondo form with a plaintive melodic line and expressive use of the appoggiatura. Les Cyclopes evokes the one-eyed giant of Greek mythology with scales and arpeggios in an expanded form that is a forerunner of a sonata-allegro movement.
Suite for Piano in C major (arr. by C. Stell)
Francis Poulenc (1899–1963)
Francis Jean Marcel Poulenc, a quintessential Parisian, was the son of a wealthy pharmaceutical manufacturer who received his first piano lessons from his music-loving mother, a capable pianist. At his father's insistence he studied at the Lycée Condorcet rather than a music conservatory. He studied piano with Ricardo Viñes who had a major influence on his piano technique and compositional style; the Suite Pour Piano of 1920 is dedicated to Viñes. He also came under the influence of Eric Satie and became one of a group of composers known as Les Six. Poulenc was a highly accomplished pianist and wrote many pieces for the instrument throughout his career. He also composed music in all genres including opera, most notably, Dialogues des Carmélites.
The three movements of the Suite in C for piano are said to distill the luminosity of C major scales. The piano writing for the right and left hand in this piece is well suited for transcription as a guitar duo. The first movement, Presto, thematically brings to mind a sonata by Mozart often played by young piano students. The movement is a Mouvement Perpétuel. The Andante drops a whole tone to the key of B- flat Major and conveys a liquid pastoral mood. The third movement, Vif, returns to the sprightliness of a classic era rondo finale.
Cançons I Dansas (arr. by M. Eden)
Federico Mompou (1893–1987)
Frederic Mompou was a Spanish composer and pianist who was born in Barcelona in 1893. Hearing Gabriel Fauré perform when he was nine years old made a profound impression on his performing style and future musical composition. He studied at the Conservatoire de Paris with Isidor Philipp, head of the piano department. Because of his shy introspective personality, he avoided a concert career and devoted himself to composition though he did perform his own works at private soirees.
He is best known as a miniaturist whose compositions are short and improvisatory in character. He was fond of ostinato figures and bell-like imitations (his mother's family owned the Dencausse bell foundry and his grandfather was a bell maker). He was influenced by the atmosphere of the maritime quarter in Barcelona: the cry of sea gulls and the sounds of children playing.
Cançons I Dansas (Songs and Dances) is a collection of fifteen pieces composed between 1921 and 1979. They were all written for the piano with the exception of the thirteenth, which was written for the guitar and the fifteenth for the organ. In each piece a slow introduction, a Cançano, is followed by an animated Dansa. They are based on popular Catalan folk tunes and known to guitarists through the arrangements of Catalan guitarist Miquel Llobet. We hear them today in an arrangement for guitar duo by Mark Eden.
Theme and Variations from the String Sextet
in D minor, Op. 18b (arr. by John Williams)
Johannes Brahms (1833–1897)
The first of the two string sextets that Brahms composed, the String Sextet in B- Flat Major, Op. 18, dates from September 1857. At this time Brahms had accepted a three-month position at the Court of Detmold, a castle set deep in the Teutoburger forest. The second movement of the Sextet in the key of D minor features an original theme of Baroque style followed by six variations. Brahms set a precedent for the transcription of this movement when he presented Clara Schumann with an arrangement for piano solo on her 41st birthday. The piece is well known to guitar audiences through the duo arrangement by John Williams, which he performed and recorded with guitarist Julian Bream.
Program Notes by James L. Franklin