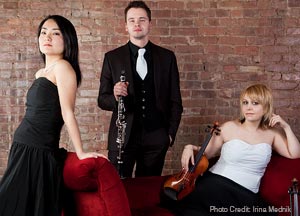 The Zodiac Trio

Program
W.A. Mozart
Trio for Clarinet, Viola and Piano
in E-flat Major, K. 498, "Kegelstatt"
Aram Khachaturian
Trio for Clarinet, Violin, and Piano
Igor Stravinsky
Suite from L'Histoire du Soldat
OCTOBER 16th, 2018
Tuesday at 11:30 a.m.
The Zodiac Trio
This lively trio of clarinet, violin, and piano was formed in 2006 at the Manhattan School of Music and became the only ensemble with a wind instrument to enter the esteemed Ysaye Quartet Chamber Music program at the Paris Superior Conservatory. Since that time the Trio has achieved a level of recognition on the international chamber music stage that is rarely bestowed on a group with such untraditional instrumentation.
Program Notes
Note: to access the links, please double-click on the colored, underlined reference. Wait a moment or two for the link to load, and be sure your speakers are on.
Mozart—Trio for Clarinet, Viola and Piano in E-flat Major
(Click here.)
| | | |
| --- | --- | --- |
| Anton Stadler | Wolfgang Mozart | |
From his precocious childhood forward, Mozart was hailed as a musical genius both for his performances and for his compositions; by the time he was 30, Mozart had written a huge body of music including operas, symphonies, piano concertos, works for solo piano, and for chamber ensembles. Yet though he was well paid, he was always short of funds. Since chamber music was enjoying enormous popularity in Vienna, he composed and published more chamber works to take financial advantage of this genre's popularity; among the works that he produced was today's trio. His friendship with clarinet virtuoso and Masonic brother Anton Stadler inspired him to write this trio for clarinet, dedicated to his piano student Franziska von Jacquin; Mozart, Stadler and Jacquin gave its premiere at a von Jacquin house concert.†
Since structure and form were important to Mozart, we might listen for his use of them and also note how different the themes sound when expressed by the three instruments. In the opening movement, the piano announces the theme, followed by the viola and then the clarinet; it returns in different guises and keys, tossed playfully between the instruments. The second movement is a three-part Minuetto (section A) in B-flat major, with a Trio in contrasting G-minor (section B), then returning to the original (A). The final movement is a rondo in which the main theme A is interleaved four times with contrasting episodes B and C (ABACABA), each offering dramatic excursions for the viola, clarinet and piano. Kliment Krylovskiy, Zodiac's clarinetist, has kindly offered us commentary on today's three works, and invites us to hear this charming piece as a "lighthearted, relaxed work played outside at a summer retreat while drinking with friends."
†
The likely version of the disputed source of its nickname "Kegelstatt" (skittles, or bowling) is that this work was confused with a different composition of his from about the same time, whose dedication says "July 27, 1786, while playing skittles."
Khachaturian—Trio for Clarinet, Violin and Piano
(Click here.)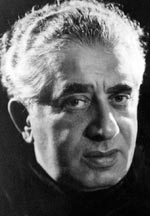 Aram Khachaturian
In 1903 Khachaturian was born into the Armenian Diaspora in Tbilisi, Georgia. Musically self-taught and fascinated by folk tunes, he went to Moscow to study seriously, eventually landing at the Conservatory. It was as a student there that he wrote this Trio, one of his only two chamber works. He went on to write for larger groups, including ballets, symphonies, concertos, and films. You would instantly recognize two famous ballet pieces: the Adagio (click here) from Spartacus and the Sabre Dance (click here) from Gayaneh. He continued to compose, conduct and tour for the remainder of his life, and is widely recognized as one of the great Soviet composers of the 20th century.
Khachaturian noted, "[Folk music] shaped my musical consciousness and lay at the foundations of my artistic personality." While inspired by folk music, his compositions never directly quote it. Rather, he combines folk rhythmic patterns with an exotic scale that sounds more middle-eastern than western, and evokes folk instruments such as the duduk (click here), a shepherd's wind instrument akin to the clarinet. Krylovskiy observes that the clarinet-violin-piano combination is somewhat rare, and "presents challenges and rewards: the challenge is that we have two soprano instruments (violin and clarinet), and the reward is that when blended correctly, the combination can create the extended sound that isn't available in the piano trio." We hear the instru-ments as they dance and weave around each other, with fast runs and decorative ornaments sounding at once exotic, emotional and improvisatory, while at the same time, sharing the soundscape with the piano which provides a solid foundation and also brilliant passagework.
Stravinsky—Suite from l'Histoire du Soldat
(Click here.)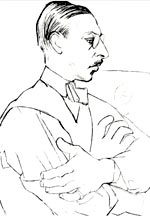 Igor Stravinsky
Russian-born Igor Stravinsky was, without question, one of the most important and influential composers of the 20th century. Like Khachaturian, Stravinsky was strongly influenced by Russian folk tradition, and this influence of storytelling stayed with Stravinsky throughout his artistic life. He first burst upon the scene with The Firebird (1910—about a magical firebird and her lover; click here—an especially interesting version, conducted by Stravinsky, introduced by Bernstein); then Petrushka (1911—a puppet's story; click here), and then Rite of Spring (1913—a story of prehistoric sacrifices; click here). Later compositions have similar story settings, such as The Nightingale, Pulcinella, and l'Histoire du Soldat (1918), 100 years old this year.
Krylovskiy comments, "l'Histoire is one of Zodiac Trio's meat and potato concert pieces, and we have also recorded it. At the end of World War I, Stravinsky was broke and he wanted to write something to take around on tour. He decided to write a work for seven musicians, plus actors, dancer and narrator, to tour in villages and towns in Switzerland." He selected a Russian folk tale, Faustian in character, which tells the tale of the Soldier who is marching home. He meets the Devil who convinces him to trade his violin (a stand-in for the soul?) for a book that tells the future and therefore offers great riches. As usual, this bargain turns out poorly for the Soldier. The moral to the story: one must make a choice; "One happy thing is every happy thing. Two, is as if they had never been." Swiss philanthropist, merchant and excellent amateur clarinetist Werner Reinhart supported the project, and to thank him, Stravinsky arranged the one-hour work into a fifteen-minute suite for these three instruments. Krylovskiy adds, "I believe that this instrumentation stands on a par with the original. We take the liberty of narrating the story from the stage."
Program notes by Louise K. Smith