The Modigliani Quartet
Program
W.A. Mozart
No. 19 in C Major K 465 "Dissonance Quartet"
Maurice Ravel
Quartet in F Major
NOVEMBER 13th, 2018
Tuesday at 11:30 a.m.
The Modigliani Quartet
The Paris-based Modigliani Quartet, formed by four close friends in 2003, is a regular guest in the world's top venues. Most recently they were the first string quartet to perform in Hamburg's newly opened Elbphilharmonie. In 2014 the Modigliani became Artistic Directors of the Rencontres Musicales d'Evian, a festival founded in 1976 which was directed by Mstislav Rostropovich.
The Modigliani Quartet website
Program Notes
The String Quartet
Many consider the string quartet to be the apotheosis of chamber music, if not its very definition. It certainly is a prestigious musical form, and represents one of the true tests of a composer's art and skill. Consider: the composer is writing for four similar string instruments (two violins, viola and cello), and each player has an independent, expressive line and voice. While compositions for ensembles of these four instruments were performed for centuries, they had generally been written for violin plus a backup ensemble of the other three instruments.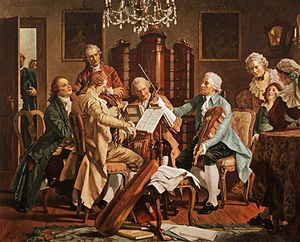 Haydn (on right, in blue) and friends playing string quartets
It was Franz Joseph Haydn, starting in the 1770's, whose 68 compositions in this medium established the genre's formal conventions and aesthetic values and raised it to such prominence and significance in Western musical culture.
Maybe it was a sign of the times: just as the Age of Enlightenment, born in the eighteenth century as was the string quartet, promoted individual liberty and equality, so can the string quartet be heard as musical democracy in action, one which features open dialogue between the four independent instruments. Goethe wrote, "a quartet performance is like listening to four rational people conversing among themselves." Thomas Jefferson, certainly an Enlightenment man who also played the violin, even invented a four-sided music stand (below) for playing string quartets.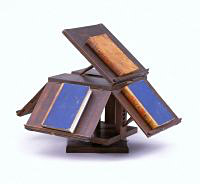 Yet this is a genre that strongly attracts 21st century composers and ensembles as well, and is anything but a relic of the past.
Mozart (1756–1791)—String Quartet
in C Major, K. 465, "Dissonance" (1785)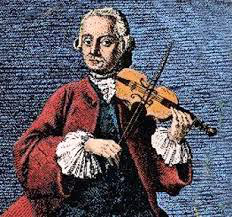 "Mozart On His Own Instrument"
Not only did Mozart know Haydn's works well, but the two men were good friends. Haydn, 24 years Mozart's senior, served as his informal mentor. Mozart even called Haydn "Papa." At private Viennese musical parties, Haydn played violin and Mozart played viola together. If they played a Mozart viola quintet for two violins, two violas and cello, the pair would each play a viola part—now, what a charming picture that makes! Mozart dedicated and gave a copy of today's quartet to Haydn, who said to Leopold Mozart: "Before God and as an honest man I tell you that your son is the greatest composer known to me either in person or by name; he has taste, and, furthermore, the most profound knowledge of composition."
This quartet is nicknamed "Dissonance" because of the clashing sonorities of its first two minutes. Musicologist Lucy Miller Murray notes that this abrasive dissonant introduction "offended the eighteenth century sensibility—so much so that audience insisted they heard wrong notes, and players asked the publisher for corrected scores." Amaury Coeytaux, the Modigliani Quartet's first violin, offered these thoughts: "This introduction is something truly special: every time you hear it you are struck by how modern Mozart managed to make it, and for us each performance is new. Every time we hear it differently, reconsidering the importance of each line, vibrato, and articulation." The slow, singing second movement features a four-note tune played by each voice, then becoming a duet between violin and cello. It appears no less than 25 times in the violin and 28 times in the cello. Just observe its shape here to help hear it. Click here: four note tune.
(Note: it first starts in the top line at 15 min.17 sec. and then in fourth line (second page) of the example.)
Here is a complete performance by the Emerson Quartet.
Ravel (1875–1937)—String Quartet
in F Major (1903)

Maurice Ravel



Gabriel Fauré,
by John Singer Sargent

Claude Debussy and Emma Bardoc
Just as Mozart had his mentor in Haydn, so Maurice Ravel had his: Gabriel Fauré, with whom he studied at the Paris Conservatoire, and to whom he dedicated this quartet, noting in the musical score for all subsequent performers to see: "à mon cher maître Gabriel Fauré." Ravel also was deeply drawn to Debussy, his music and its "impressionism." But when Debussy ran off with Fauré's mistress, Emma Bardoc, Ravel turned away from him. During his own lifetime, Ravel was celebrated as France's greatest living composer, a brilliant orchestrator, colorist and innovator. His best-seller "Bolero" reflects the fact that he was born just a few miles from the French-Spanish border, and is filled with atmosphere, color, and experimentation with musical form (i.e., exploring the theme through reiteration by every instrument).
Paris must have been quite a place in 1889 when it celebrated the centennial of the French Revolution by holding a World's Fair. The brand-new Eiffel Tower formed the entrance to the fair itself; the theme was "exoticism," and among the attractions were Buffalo Bill's "Wild West Show" featuring Annie Oakley, and, most importantly for us, a Javanese gamelan ensemble performed. (The gamelan is a set of percussion instruments; mallets are used to strike bells, drums, xylophones.) Among those who heard the Fair's gamelan were Claude Debussy, Erik Satie, and Maurice Ravel, who all were fascinated by its colors and incorporated them into their own music. In particular, Ravel used them in the second movement of this string quartet. But just how to make a string quartet sound like a gamelan ensemble? Ravel explored and exploited many techniques available to string players to make "colors," such as by plucking the strings (pizzicato) for a percussive effect; by putting a mute directly on the strings; and by bowing higher or lower on the short 2" length of the strings between the end of the ebony fingerboard and the bridge. Watch closely and you can see the musicians installing and removing those mutes quite frequently, especially in the second and third movements, and listen closely to hear how these different techniques dramatically or subtly change the sound. They, plus little flutters, trills and continuous runs across the four instruments' combined range, low to high, evoke a gamelan.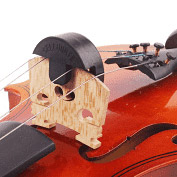 Violin mute installed on the bridge
Mr. Coeytaux notes that "The difference between a CD recording and a live performance is that once it's recorded, the performance is there forever. However, on the stage it changes every time, in response to the hall's acoustics, the audience, and the feeling of the musicians. That's why we love live performances." Here is a complete performance by the Verona Quartet.
Program notes by Louise K. Smith