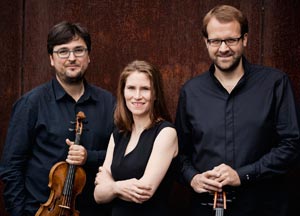 The Morgenstern Trio

Program
Frank Martin
Trio on Irish Folk Tunes for Piano Trio
Maurice Ravel
Piano Trio in A Minor
MARCH 21st, 2019
Thursday at 11:30 a.m.
The Morgenstern Trio
After working together for only two years, the Morgenstern Trio emerged on the German music scene by being awarded top prizes and awards such as the prestigious U.S. Kalichstein-Laredo-Robinson Trio Award in 2010. This prize catapulted them onto the scene in the U.S. with performances in Washington, D.C.'s Kennedy Center and at Carnegie Hall and other venues in New York. In the summer of 2014 the Morgenstern Trio inaugurated their own Morgenstern Festival in Germany.
Program Notes
A Chicago Connection
In 1903, Chief Francis O'Neill, General Superintendent of the Chicago Police Department (CPD), published Music of Ireland, Eighteen Hundred and Fifty Melodies, which became a best seller in Chicago, wildly popular in Ireland, and then enormously influential in popularizing Irish music around the world. It may well have served as inspiration for Frank Martin, who wrote today's first piece.
O'Neill immigrated as a teenager to Chicago from County Cork, Ireland in 1864, and found a job as a patrolman. He rose quickly through the ranks during turbulent times in Chicago, including the Haymarket Riot, the Emma Goldman affair, and the Iroquois Theatre fire.
Chief Francis O'Neill (1848–1936)
Superintendent, Chicago Police
O'Neill died the year that the Chicago Chamber Music Society was founded, so we too have a connection to him. O'Neill's passion was collecting and performing traditional Irish music. He was a flautist, fiddler and piper, and prepared the largest collection of Irish traditional music ever assembled. His biographer Nicholas Carolan called him as "the greatest individual influence on the evolution of Irish traditional dance music in the twentieth century," and he is credited with saving traditional Irish music. In Ireland, people knew and played only the music in their own town or county. After the Famine, Irish immigrants came to Chicago from all 32 counties of the country, bringing their instruments and their music. Carolan again: "[O'Neill's] arrival in Chicago was timely: the experience he gained and the work he carried out in music during his first four or five decades there could not have been duplicated much earlier and certainly not later. By the 1920's demographic and cultural changes among the Chicago Irish would almost have swept away their older traditional culture. O'Neill was soon making the acquaintance of the Chicago players and memorizing their tunes." For O'Neill, it was a treasure and feast!
O'Neill collected and published five books of Irish dance tunes and a memoir, Chief O'Neill's Sketchy Recollections of an Eventful Life in Chicago. While we don't know if Martin used O'Neill's collections (the timing is right—Martin wrote his trio in 1925 and O'Neill published between 1903 and 1936), we know that the international popularity of these Irish tunes was largely due to Chief O'Neill's signal contributions to and popularization of these folk tunes.
To hear a session of traditional Irish music, check out Chief O'Neill's Pub. https://chiefoneillspub.com
Chief O'Neill's Pub, 3471 N. Elston, Chicago
Frank Martin (1890-1974)—Trio on popular Irish folk tunes for piano, violin and cello (1925)
Frank Martin
Emanuel Wehse, cellist of the Morgenstern Trio, notes that the ensemble finds it a pleasure to perform for CCMS: he comments that the WAC is an acoustically and aesthetically magnificent space to play in; and it is exciting for them to perform for an audience which is enthusiastic about hearing an all-twentieth century program.
Frank Martin (pronounced in the French manner) was born in Geneva, Switzerland, as the tenth child of a Calvinist clergyman. He played and improvised on the piano even before he went to school, and was a prodigy composing and performing throughout his early years. He particularly admired J.S. Bach after hearing a performance of the St. Matthew Passion when only a boy, and realized that music was his destiny when he was 16. He settled and taught at the Geneva Conservatory of Music, became interested in Schoenberg's 12-tone technique, and used it to develop his own personal musical vocabulary and style. A peripatetic fellow, he moved to the Netherlands, where he lived until his death. He was strongly influenced by Debussy and Ravel after the Great War. Throughout his compositional life he wrote a number of oratorios, masses and other large sacred and secular choral works, symphonic works, chamber works, and several dramatic works including a ballet and an opera.
In 1925 Martin was commissioned by an American amateur musician to write a piano trio based on familiar Irish tunes. However, Martin chose and then modified certain obscure tunes and the unhappy patron withdrew the commission. Martin continued anyway, and produced this wonderful trio. While fairly short (less than seventeen minutes), it is charming and lively, and will surely have you tapping your toe.
The first movement introduces tunes in layers, one after another. The rhythm and tempo of each line are sometimes the same, sometimes independent. They build, each one faster, leading to a dramatic close. The cello opens the Adagio with a sad extended melody, joined by the piano and then the violin, each playing a variation with the cello. All three instruments move into exploratory and vigorous material before returning to the original mood of the Adagio. The Gigue is a traditional Irish gig, and it is a great pleasure to hear the meanderings that the three instruments take as they explore variant pathways before they return for a romping finale.
Click here for a performance by the Trio Gaspard.
Maurice Ravel (1875-1937)—Piano Trio in A Minor (1914)
Maurice Ravel, painting by Ludwig Nauer
In spring of 1914, Maurice Ravel was making slow progress on his piano trio. When World War I broke out in August, Ravel was desperately eager to sign up and so he frantically worked to finish the trio first. He wrote to Igor Stravinsky in September 1914, "the idea that I should be leaving at once made me get through five months' work in five weeks! My Trio is finished." But at 5'3" and 103 pounds, he was rejected by the Army as too slight to enlist and so volunteered as a nurse's aide and drove a truck for the Thirteenth Artillery Regiment throughout the war.
At CCMS's November concert we discussed Ravel's attraction to "exoticism" and how he reveled in his Basque roots (viz., Bolero). Here again he honors his heritage, in particular to a Basque dance called a zortziko—listen for the same characteristic rhythm as in the opening of the trio (here). The piano starts a pattern of extreme low dark bass and chilling high notes that continues throughout the entire trio.
The Pantoum is a Malaysian verse form, namely a poem of four-line stanzas in which the second and fourth lines of each stanza serve as the first and third lines of the next stanza. Musicologist Bruce Adolphe observes that Ravel generates the feeling if not the form of a pantoum by playing with rhythm and time, not by interleaving melody. Having said that, it is a challenge for me to detect Ravel's musical expression of this poetic form, but perhaps that's Ravel's point, to honor the spirit of classical forms in a contemporary format.
The third movement, Passacaille, is a Baroque dance form with Spanish origins, in which variations accompany an underlying stately repeated bass line and harmony. The piano opens the movement darkly with soft, low bass notes in a minor key, then is joined successively by the cello and violin. Ten variations follow with increasing intensity; then the strings quietly recede, leaving the piano alone to come to a slow, quiet, eerie close in the very lowest register of the piano.
The Finale of this Trio demands virtuoso players to perform this exceptionally difficult and exciting music. The unusual rhythms and the driving tempo are interspersed with sweeping runs, powerful chords and endless trills. Ravel includes references and reminders to the melody from the first movement. This is a magnificent and thrilling work which will be fascinating to hear.
Click here for a performance by Rubenstein, Heifetz & Piatigorsky.
Program Notes by Louise K. Smith