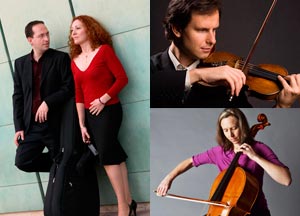 Cavatina Duo

Program
J. S. Bach
Sonata in E major for flute and continuo (BWV 1035)
Carlos Rivera
Plegaria y canto (Al Bodre de la Mar)
Alan Thomas
Trio Sefardi
Alan Thomas
Fantasy on Themes from "La Traviata," after Krakamp, Briccialdi and Tarrega
MARCH 8th, 2016
Tuesday at 11:30 a.m.
Eugenia Moliner and
Denis Azabagic
with guest artists
Dmitri Pogorelov and
Paula Kosower
Eugenia Moliner, flute, and Denis Azabagic, guitar, performed for the Society several years ago as the Cavatina Duo. They have captivated audiences in major venues such as Ravinia, Harris Theater, the Aix-en-Provence summer festival, the National Center for the Performing Arts in Beijing, Palau de la Musica (Spain), and countless other venues. Composers from around the world have been inspired to write and arrange new works for the Duo.
For this concert they'll be joined by critically acclaimed violinist Dmitri Pogorelov who won prestigious competitions in his native Russia at an early age and has since performed all over the world. Paula Kosower, cellist, is an active performer and teacher currently residing in Chicago who has performed with the most prestigious chamber music groups in Chicago, including the Chicago Symphony Chamber Music Series, Chicago Chamber Musicians, Mostly Music, Rembrandt Chamber Players, and Music of the Baroque.
Eugenia Moliner and Denis Azabagic, Cavatina Duo website